The Coronavirus Business Interruption Loan Scheme has been significantly expanded
6th April 2020
... Comments
---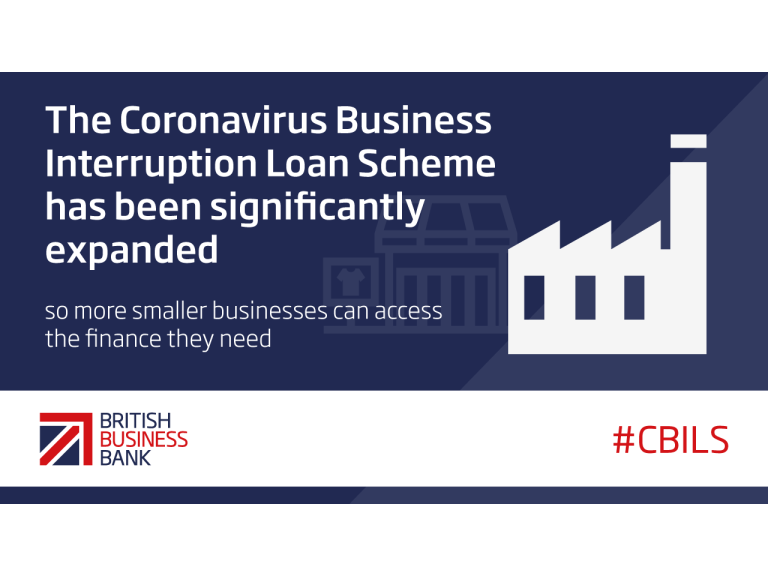 The recently launched Coronavirus Business Interruption Loan Scheme (CBILS) has now been significantly expanded along with changes to the scheme's features and eligibility criteria. The changes mean even more smaller businesses across the UK impacted by the Coronavirus crisis can access the funding they need.
 
Importantly, access to the scheme has been opened up to those smaller businesses who would have previously met the requirements for a commercial facility but would not have been eligible for CBILS. This significantly increases the number of businesses eligible for the scheme.
The expanded scheme will be operational with lenders from today- Monday 6th April 2020.
 
Extended Coronavirus Business Interruption Loan Scheme (CBILS) 
The Government has extended the CBILS so that all viable small businesses affected by COVID-19, and not just those unable to secure regular commercial financing, will now be eligible should they need finance to keep operating during this difficult time. 

The government is also stopping lenders from requesting personal guarantees for loans under £250,000 and making operational changes to speed up lending approvals. The government will continue to cover the first twelve months of interest and fees.

New Coronavirus Large Business Interruption Loan Scheme (CLBILS)
The new CLBILS will ensure that more firms are able to benefit from government-backed support during this difficult time. It will provide a government guarantee of 80% to enable banks to make loans of up to £25 million to firms with an annual turnover of between £45 million and £500 million. 

Loans backed by a guarantee under CLBILS will be offered at commercial rates of interest and further details of the scheme will be announced later this month.

Please find initial details here: https://bit.ly/NewCLBIL
New scheme features
No personal guarantees for facilities under £250k: Personal guarantees of any form cannot be taken under the scheme for any facilities below £250k.
Personal guarantees for facilities above £250k: Personal guarantees may still be required, at a lender's discretion, but recoveries under these are capped at a maximum of 20% of the outstanding balance of the CBILS facility after the proceeds of business assets have been applied.
A Principal Private Residence (PPR) cannot be taken as security to support a personal guarantee or as security for a CBIL backed facility.
Security: For all facilities, including those over £250,000, CBILS can now support lending to smaller businesses even where a lender considers there to be sufficient security, making more smaller businesses eligible to receive the business interruption payment.
 
Please note that any queries by SMEs in relation to their specific circumstances must be directed to their lender or one of the accredited CBILS lenders and not to the British Business Bank. 

OTHER BUSINESS FINANCE SUPPORT OPTIONS
You can also find details of other government measures to support public services, people and businesses through this disruption on the Government's Business Support website.
Information courtesy of Stoke and Staffordshire Business Helpline.