Local school children 'Bring on the Blossom'
2nd March 2017
... Comments
---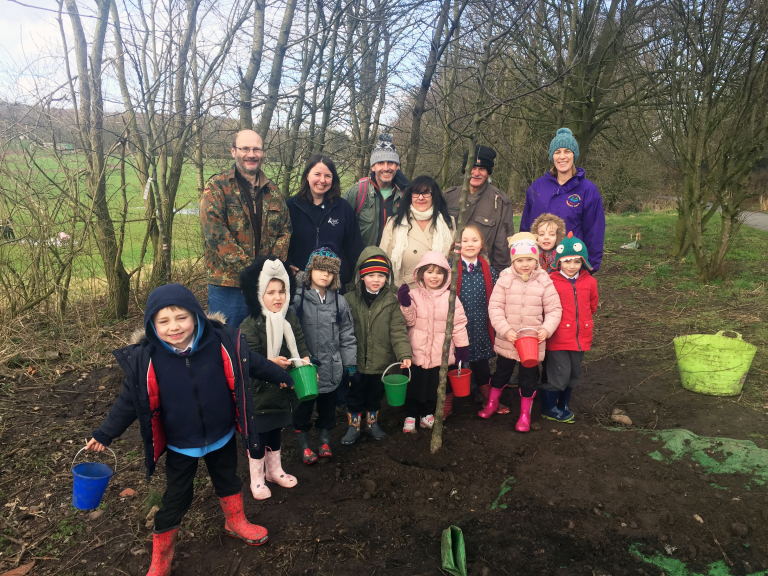 'Bring on the Blossom' is a project funded by players of People's Postcode Lottery through Postcode Local Trust. 
The Friends of Hednesford Park were successful in securing a grant from the People's Postcode Lottery and will work in partnership with Cannock Chase Council to deliver the project.
Classes at Littleton Green are named after a tree and Year 1 children came to the park this week to plant their namesake tree as well as wild garlic and snowdrops.
It is hoped that once established the blossom garden will not only provide a visually attractive entrance to the woodland, but also the colour and scent will be an important sensory element, especially for visitors to the park who are living with dementia.
The blossom garden will also increase the biodiversity within the park and attract wildlife such as pollinating insects and birds.
Lots of preparation work has taken place prior to the planting, with the thinning of the existing woodland to create open glades.  This work was completed by the regular volunteers during Potter in the Park and work experience sessions with Hednesford Valley High, Cannock Chase High and Rodbaston College and these groups will continue to plant the remaining trees over the next few weeks.
Councillor Christine Mitchell, Portfolio Leader for Culture and Sport said "This is another fantastic project within Hednesford Park, which has been funded by players of People's Postcode Lottery."
"I am delighted to see that yet again many different schools and community volunteers have been getting involved."
"This blossom garden will be a lovely addition to the park, attracting wildlife and will provide sensory stimulation for people visiting the park.  I am looking forward to seeing it in full bloom once it's established."
If you are interested in getting involved with activities at Hednesford Park contact Lynn Evans on 07855 099353 or email lynnevans@cannockchasedc.gov.uk