Cannock Chase Green Party Joins National Protest against Fracking
1st February 2016
... Comments
---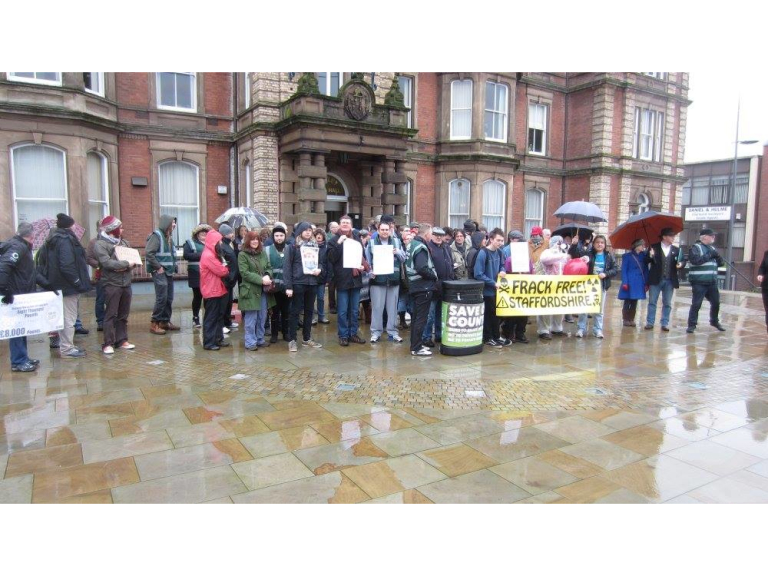 Cannock Chase Green Party have been leading a campaign to "Save Our Countryside" which started out to stop the County Council selling our countryside estate and has now expanded to the broader aspects of saving our countryside including the imminent threat of a badger cull and the immediate threat of fracking coming to North Staffordshire. Concerns have also been highlighted following the government decision, supported by our local MP, to remove protections for National Parks and Areas of Outstanding Natural Beauty, like Cannock Chase.
Fracking is the injection of water and chemicals under very high pressure to fracture the rocks to release gas by a process known as hydraulic fracturing. There are international concerns related to the environmental damaged caused by the process which has been linked to groundwater contamination, earthquakes and toxic water generation. Fracking can be used for the extraction of Shale Gas and Coal Bed Methane.
A year on from ruling out fracking under national parks the conservative government completed a U-turn to remove these protections just before Christmas. Local concern has been highlighted by over 3000 people supporting a petition to "Keep Your Fracking Hands off Cannock Chase" to a strong and clear message to anyone considering speculating for deposits in our area. The council position is detailed in a fifteen year minerals plan.
Paul Woodhead, Local Co-ordinator Cannock Chase Green Party comments
"Joining this national day of action is important in our campaign to engage and inform people in Staffordshire. Fracking is a real danger to the environment and we want to encourage everyone to do their own research to understand what is involved and the destructive impact it can have on our area.
"There are many myths around energy independence and cheaper bills when the reality is that already 31% of our electricity is already generated from renewable sources. Fracking is a cul-de-sac approach to reliance on fossil fuels which are driving the damage of climate change, will devalue our home values and increase our insurance costs.
"The council minerals plan has a very weak position relating to fracking and we want to ensure that the dangers are understood and councillors and planning authorities reflect the will of the people"