'We Move Anything' offer Storage solutions too!
We Move Anything of Bury do indeed move anything whether the customer is a private homeowner, a business operator or other organisation.
We Move Anything offer secure, dry and clean storage facilities with storage 'pods' in a variety of sizes.
We Move Anything De-cluttering service enables homeowners and businesses to de-clutter so if you are planning to move home you can store safely those prized possessions, businesses often declutter to make space for more essential purposes e.g. storing archives and seasonal stocks for example. The De-clutter service is charged from £150; the company will deliver 30 cardboard boxes and masking tape to help you and when you are ready they will uplift the boxes and take them to the storage facility. We Move Anything will deliver anywhere, or the customer can collect.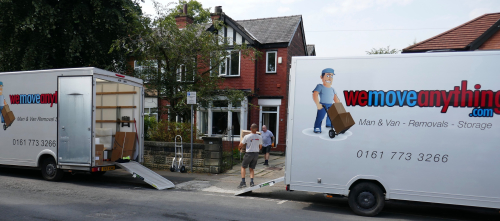 We Move Anything collect, store and return to remove the need for van-hire and heavy lifting, allowing you to get on with something more important. Unlike self-storage the team will bring the storage solution to you at your home or business.
Can I get a storage pod to fit my requirements?
Yes, storage pods vary in size from 35sq. ft. (big enough to store a sofa set, a two-door wardrobe and up to 15 large boxes) up to 175sq.ft. that would accommodate the contents of a four-bedroom home! You could store furnishings, garden furniture, bicycles and many more items and for any length of time.
At what cost?
£15 for one storage pod per week inc VAT,
2 x storage pods £30 per week inc VAT,
3 x storage pods £45 per week inc VAT,
4 x storage pods £60 per week inc VAT,
5 x storage pods £75 per week inc VAT.
Insurance cover is not compulsory but is advisable and We Move Anything can extend their own liability cover at a cost of £1.50 inc VAT per week per £1000 value of goods stored.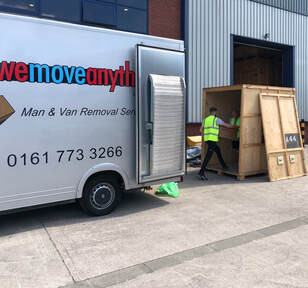 Containerised Storage with We Move Anything is typically cheaper than using self-storage facilities because you only pay for the space that you use. Each storage pod has a floor area of 35sq.ft. (or 7 cubic ft.) allowing each pod to be packed efficiently to reduce wasted space. When requiring more storage space the Company uses multiple containers and if your requirement is reduced in time they will reduce the number of containers used to reduce the cost.
Looking for cost-effective storage? Look no further!
Contact We Move Anything today!