There's 15% Off Everything during January 2022 at Direct Flooring & Beds!
Stop Press!
There's  15% Off Everything during January 2022 at Direct Flooring & Beds!
There is a New Year positivity to Direct Flooring & Beds Ltd as they begin the trading year helping you plan your new look for the year ahead!
Direct Flooring & Beds is our local specialist supplier of Flooring Solutions and Beds throughout the Bury area, supplying product to Domestic Households and Commercial Buyers needing more durable alternatives that are cost-effective and designed to resist heavier wear and tear.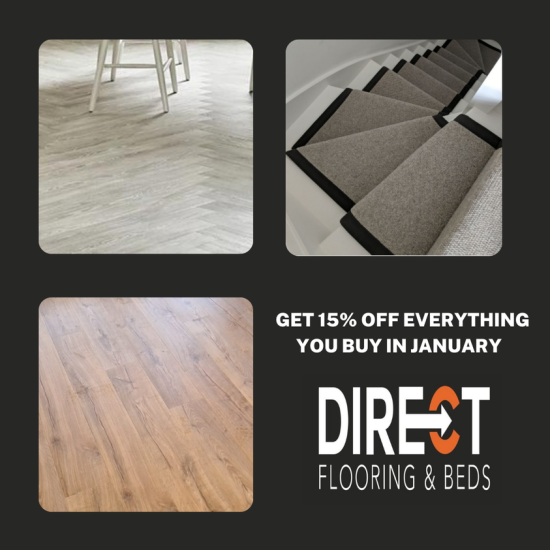 Fancy bringing your décor into 2022 with fresh floor coverings and beds not only supplied by their highly experienced team but fitted by the Best Fitting team in the North West? Direct Flooring & Beds is here to help, professionally.
Professional fitting is essential to having the job done right and saves those issues associated with amateur installers that will show up with time. Direct Flooring & Beds have their reputation to protect and with many years of hard work building their good name the Company is rightly proud to put quality first - always.
What can Direct Flooring & Beds offer you?
-15% Off Everything during January 2022!
-Carpets for any room, in a variety of styles, patterns and qualities, plus underlay for added comfort and warmth
-Expert fitting by the Best Fitting Team in the North West!
-Vinyl Flooring
-Luxury Vinyl Tiles
-Laminated flooring
-Wood flooring, tough, robust and hard-wearing
-Accessories
-Grass that will never need to be mowed, an excellent 'buy' now to prepare for Spring BBQ's, top-quality and always green!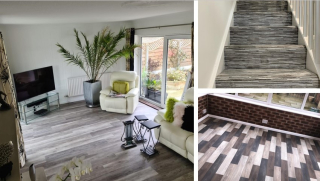 Buying local means buying from real people running businesses that are part of the fabric of our community and in doing so investing in our economy and its population. In return you get to feel the quality before buying, see the colours and styles and plan with the experts what is best for the job in hand, plus a saving up to 15% makes good sense. Because the service offered by Shaun and Chris, the owners of the firm, is more personal customers have the additional comfort of knowing who to turn to for professional advice that they can trust and get the best deal in Town backed by excellent customer service.
How would you like to save 15% on your next purchase?
Contact Direct Flooring & Beds now!