Senior Waste Removals want to make sure you're 'Back to work' ready.
For those businesses who have made the switch to working from home, it's possibly been months since anyone has stepped foot in the office. That's set to change though as we see restrictions lifted over the coming weeks.
And it's worth considering, just how neat and tidy the environment will be, that you're returning to?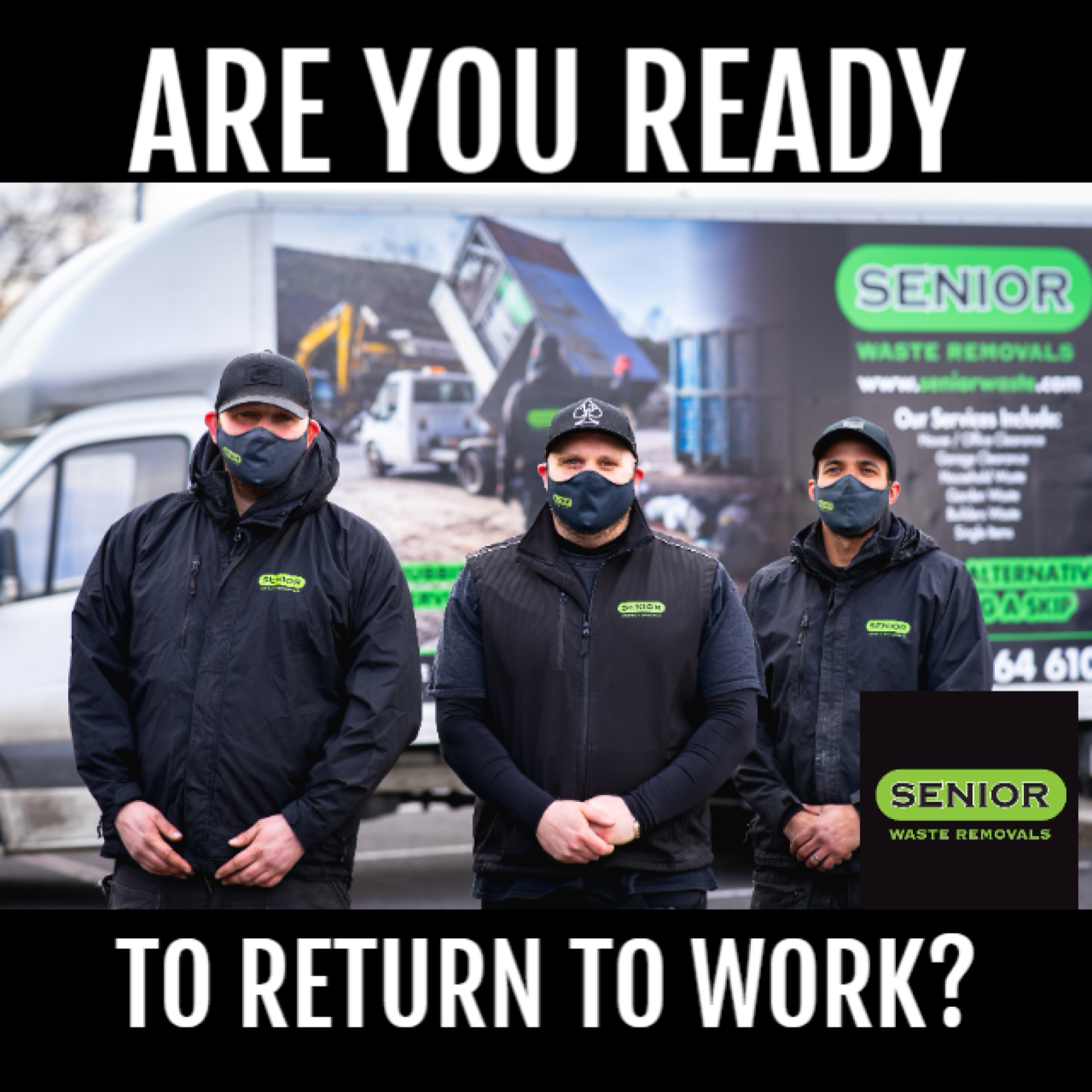 After all, the subject of clearing out the office probably wasn't a top priority before the last lockdown was announced. Now it's a different story! In fact, this is the ideal opportunity to think about having a serious declutter in the workplace.
 Not only does it look better; studies have shown that an organised office space is linked to enhanced productivity, which is another worthwhile reason to tackle any mess that has accumulated.
So, where to begin? 
Waste Paper
So now it's time to get rid of any paperwork that's no longer required. It's surprising how much paper we still get through despite our digital workspace.
In fact, the average office worker uses around 10,000 sheets of paper per year! 
Between print mistakes, junk mail, handouts, billing, presentations and packaging, mixed paper products make up an estimated 70% of the total waste in offices.
 What's more, it's estimated that 30% of print jobs are never even picked up from the printer, and 45% of those end up in the bin by the end of the day!
Be as thorough as you can; make sure to check for junk lurking in the back of cupboards.
Broken Equipment or Furniture
Any broken equipment or furniture which is beyond repair should be disposed of responsibly. Items unnecessarily taking up space and gathering dust in a corner both look untidy and may well present a health and safety issue too.
Electrical equipment
Think of the electrical appliances most offices tend to have; aside from PC's, monitors and printers, there's possibly an office kitchen, so that means kettles, fridges and microwaves too.
And given each of them will have a limited lifespan, it stands to reason that every so often, one will have to be discarded because it's no longer usable.
The amount of electrical waste we throw away is increasing by around 5% each year, which makes it the fastest growing waste stream in the UK. 
It's a startling fact that over 75% of waste electrical goods end up in landfill, where lead and other toxins they contain can cause soil and water contamination.
The clear message then is to recycle where at all possible!
Protecting your Data
A word of caution; make sure to permanently delete all files and programs on your computer's hard-drive and remove your personal data to reduce the risk of it being used by someone else!
Reinforcing the Importance of Recycling
Of course, many items from your office clear out will be suitable for recycling-think ink cartridges as well as plastic bottles and containers, paper and cardboard.
Did you know that it can take an incredible 1000 years for an ink cartridge to decompose in landfill? And throwing them in the general waste adds toxins and pollutants to the environment which is a real no-no.
On that subject, does your office have suitable clearly-marked recycling bins? Ensuring these are available encourages good habits from the whole team when it comes to waste disposal!
A tidy workspace is a productive workspace
Even if you think you're not bothered by overfull filing cabinets or mountains of paper on your desk, researchers at the Neuroscience Institute of Princeton University have demonstrated that the opposite is true.
Using MRI scans and other approaches they can confirm that our brains like order, and that constant visual reminders of disorganisation around us drain our cognitive resources and reduce our ability to focus. They also found that when participants cleared clutter from their work environment, they were better able to focus and process information, and in addition their productivity increased.
So, it makes perfect sense to tackle the clutter while the office is still empty-that won't be the case for much longer. Get the rubber gloves and binbags ready!
Let Senior Waste Removals take the hassle out the disposal of your office clutter.
Give them a call today on 07769 274 198