Ramsbottom Roofing can transform your home and keep you dry!
Ramsbottom Roofing specialists are experts at roofing repairs and entire roofing requirements for pitched and flat roofs.
 As we pass through Autumn and into Winter having a sound roof on one's property is essential. Many internal issues in property, damp, mildew etc can be caused by leaky roofs and even if you don't have leaks causing problems now snow, when it arrives, can cause them. Flat roofs can become degraded with age and crack, and sub-standard materials can cause leaks.
 Now is an excellent time to take action to find out how weatherproof your roof is and if necessary take steps to get the professional team from Ramsbottom Roofing to provide you with a Free Roofing Quotation for repairs or for a completely new roof. If you plan to get the work done professionally in the New Year, getting a price and knowing the size of the job early is the first step to your peace of mind. Once you have decided you can place your order and set a date that suits you.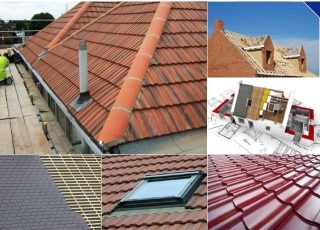 Ramsbottom Roofing is owned and operated by Dale Jones and has an outstanding reputation throughout Bury and the surrounding area. Dale is a highly experienced and knowledgeable specialist roofer offering a personal service for householders, businesses and contractors.
Ramsbottom Roofing has been a most trusted member of The Best of Bury, the home of the Best Businesses in Town, for well over 11 years. Dale and team regularly receive 5-star reviews from their customers expressing their total satisfaction with their excellent results.
Autumn brings heavier rainfall, are your gutters up to the job? New gutters will ensure that water is carried away as fast as possible so that you don't get an overflow causing damp patches on the walls which in time can penetrate causing dampness inside. Plus, water on pathways below can freeze causing a slip hazard.
Conservatory roofs. In order to keep your conservatory warmer in Winter, cut fuel bills and be environmentally friendly many homeowners are replacing the glass roofing with solid materials. Talk to Dale at Ramsbottom Roofing, he is the expert and will give you a price and a plan to make the change.
Christmas is coming, but so is Winter, now is the time to take action. Speak to the experts at Ramsbottom Roofing today and get ready to make your home warm as toast and leak free!
Click here for more info!