Ponds Northwest are your obvious choice to create a beautiful pond centrepiece in your garden to give it that WOW factor!
Ponds Northwest are the regions No1 designer, installer and servicing company creating water features that are stunningly beautiful whether in a private garden, a corporate space or a public place.
Did you know that Ponds Northwest specialise in all aspects of Koi Ponds? Koi Carp are those spectacular fish that are often to be seen in ornamental ponds and water features. Some Koi Carp grow extremely large and make a calming feature as they glide serenely about their habitat, they will even allow people to feed them which is a delightful experience for young and not so young people.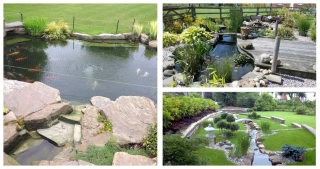 The Ponds Northwest team specialise in the design and construction of Koi Ponds including installing efficient filtration systems to maximise water quality and ensure that the fish are kept healthy. The team will create your dream pond tailor-made to meet your expectations and your budget.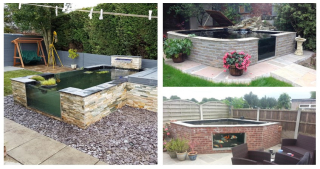 All equipment used and construction is the best quality for its purpose to ensure long life and optimum water cleanliness.
The Ponds Northwest team can boast  more than 30yrs experience collectively, and to be fair there isn't much that they don't know about building ponds, water features and about keeping them in top condition!
Maybe you have a rough idea of what you want your pond to be, the Team at Ponds Northwest can turn your ideas into a detailed plan and give you a price so you can work out your budget and plan your diary to get it installed. Ponds NW has a gallery of design ideas, shapes and styles from a small garden pond to lakes and other water features. Streams, waterfalls and even natural swimming pools are available to view. You could even have a contemporary pond created at ground level or raised or a full eco pond that will transform your outside space to breath-taking effect!
Ponds Northwest is one of the only UK suppliers installing the fantastic Aquascape range of products enabling them to transform your outdoor living space with the addition of a waterfall, fountain, or similar. Plus easy-to-install pond and waterfall kits, pumps, fish food and a good deal more!
Christmas is coming, why not order your fabulous new water feature now and make your festive party season perfect!
Contact Ponds Northwest today and be the talk of the Town!