New Courts For Bury Centre Underway
1st October 2012
... Comments
---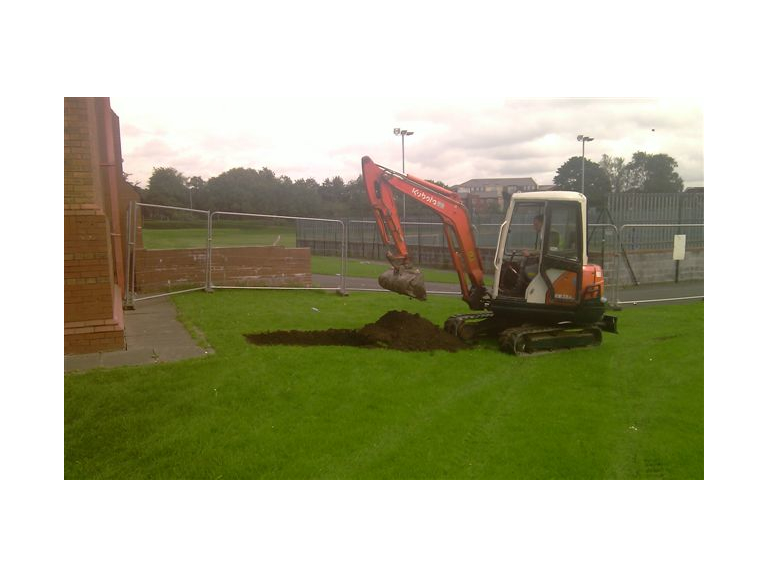 Construction of a new two-court basketball/netball sports hall has commenced at the Bury Sport for All Centre, based at Philips High School in Bury. Currently, the centre is a one-court basketball/netball centre with amenities, and with the new sports hall will become one of only 3 centres of its kind and size in the Northwest, along with being amongst one of the largest community basketball/netball facilities in the country.
The new courts will be full sized, with seating for spectators, high quality sports equipment and electronic scoring.The project is a partnership between B. H. Sports Management Limited (Sport for All Centres), Philips High School, Bury Council and Ball Hall Limited. Completion of the new centre is likely to be in March 2013, and will then be used both by Philips High School for curriculum and after school PE, and by the Sport for All Centre for community basketball and netball leagues, training and courses. The centre will have the capacity to facilitate up to 330 basketball and netball teams, with the aim for a split of 50/50 between children and adults, which would represent around 2,500 participants from the local community.
Community programmes for basketball and netball are already underway, and new players and teams are actively being sought and welcomed to join the centre programmes for the upcoming winter season, which will in turn guarantee their places in the new build sports facility which will open in March. Please contact us for further information on joining our programmes.
We would kindly ask that current centre users are patient with regards to any on site disruptions whilst the project is underway. The new building will be at the rear to the current, so disruption is expected to be a at a minimum.
Once completed, the Sport for All Centres facilities network will consist of 10 full-sized basketball/netball courts (Bury – 3 courts, Oldham – 2 courts, Stockport – 3 courts, Warrington – 2 courts).