MCR GAS are Specialists in Underfloor Heating, and they do Emergency Callouts!
One essential requirement as we approach Winter is adequate and serviceable central heating in our homes and care settings. Knowing who to call in an Emergency requires the ability to rely on a prompt responsible and trustworthy organisation that you know will respond and deal with the problems in a thoroughly professional manner.
 MCR GAS offer 'The Priceless Service That You can Trust' from Manchester's Friendliest Plumbing, Heating and Gas Specialists who are highly recommended by The Best of Bury, the home of the very best businesses in and around Bury!
 Underfloor heating has become much more popular in homes as a means of heating rooms and is considered a luxurious 'musthave' in modern homes creating a level of comfort without unsightly radiators cluttering your home, radiators that could become quite warm risking accidental contact.
Underfloor heating is also used in Commercial settings as being an efficient way to heat large areas and is a reliable way to heat residential settings safely.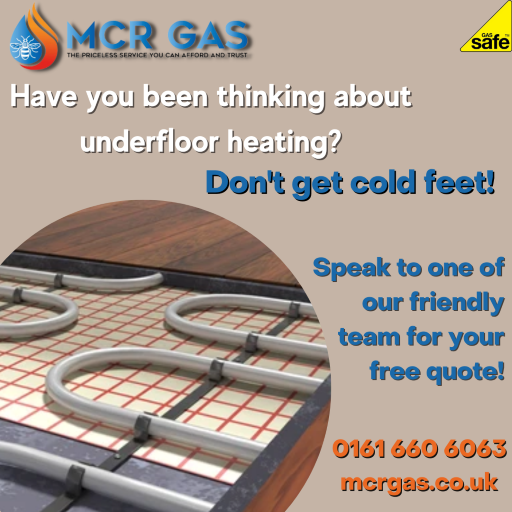 There are limitations to the type of flooring that works well with underfloor heating, tiled and stone floors work well as they get warm and hold some heat, whereas carpets can work as insulators stopping the heat from entering a room. The key to successfully benefiting your property by installing Underfloor Heating is to speak with the professionals at MCR GAS who will offer excellent advice based upon many years of experience and sound technical knowledge, plus their quotations are crystal clear and competitive.
Private individuals and commercial specifiers will receive the best support possible from the MCR GAS team whose engineers are highly qualified trained people.
Emergency callouts can be needed when systems and plumbing breaks down, especially in private homes and residential settings where vulnerable people may live. Emergency call outs are 24/7 with a 4-hour response time for loss of hot water or heating.
By quoting 'The Best of Bury' people wanting a callout will receive a discount of 15% from MCR GAS.
MCR GAS offer a wide range of Plumbing, Heating and Gas Services including Landlord services. The company is GasSafe and CSCS accredited, and each team member is DBS checked (CRB checked) for your safety and peace of mind.
MCR GAS core values are, Quality and Consistency, Pride, Delivering Gold Standard Service, Professional Service, and 100% Customer satisfaction.
Click here for MCR GAS Services and details.