Make the most of your 'green' vehicles with an OZEV Grant by Veny EVC!
Veny EVC Bury is a specialist company installing Electric Vehicle Charging points to facilitate Domestic motorists and Commercial vehicle users. Veny install OZEV approved EVC's, OZEV being The Office for Zero Emission Vehicles the team working across Government to support the early market for ultra-low emission vehicles (ULEV).
Working under the OZEV Grant scheme qualifying vehicle users can receive up to £500 per EV charger totalling £10,000 for workplace schemes. Veny will process your grant application from start to finish and advise customers which charger is best suited to their needs ensuring that the process is as easy as possible for the EV owner. This is part of a Government initiative to boost Electric car/vehicle usage to boost the UK economy and reduce dangerous emissions from cars.
A residential charging point installation can benefit from a Grant of up to £350, whereas workplace installations may be eligible  for up to 75% of the cost of each socket across a maximum of 40 EV charging sockets on one site.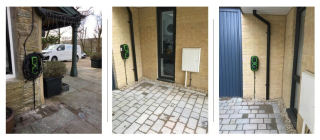 Regardless of the size of the requirement Veny EVC will treat each installation individually and ensure that the OZEV process is followed and that your grant application is progressed correctly from start to finish.
Veny Ltd is a highly professional, reliable and affordable Bury based company with experience installing EV Charging Points, Telecommunications and Infrastructure Engineering Services.
By selecting Veny as your EV Charging Point installer customers will benefit from the company's construction industry background and expertise. The company is a fully NICEIC Certified (National Inspection Council for Electrical Installation Contracting) electrical manager, making them the experts for domestic and workplace EV Charging Point installations.
The uptake of EV's is growing rapidly attracted by Government grants and by the drive amongst people to become environmentally pro-active.
A Veny EV Charging Point installation will:
Utilise the best charger for your requirements,
Be priced thoroughly, transparently and competitively. 
Quoted prices are fixed and there are no hidden fees,
Meet the NICEIC exacting standard of compliance,
Benefit from Electricians and Construction Teams with blue chip experience,
Be fully commissioned, DNO (Distribution Network Operator) approved and complete with a 3years warranty.
Take advantage of the opportunity to operate your Electric Car or vehicles effectively and efficiently with Veny EVC, they will advise you and provide a Fixed Price Quotation upon request!
Contact Veny EVC today - Click here