Keep Your Valuables Secure and the Thieves at Bay! With EPM Garage Doors!
EPM Garage Doors is a local company specialising in the supply and installation of highly secure Roller Doors!
EPM Garage Doors is a local family owned and operated business supplying and installing exceptional quality garage doors as required by their customers. EPM Garage Doors can supply and install all types and styles of garage doors, plus Electrically Operated Roller Doors. In addition EPM Garage Doors can supply and install Composite House Doors and Steel Side Gates.
Roller Doors are impenetrable, once secured the Roller Door becomes the strong point of a building and they are insurance company approved.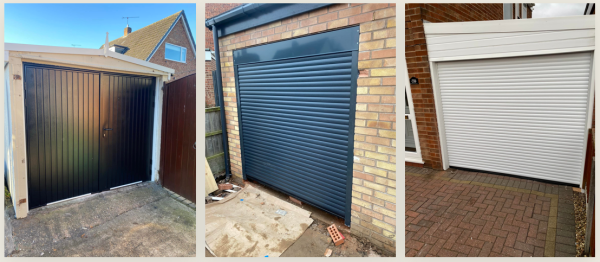 Presently the need for thief proof garages for domestic homeowners is a serious matter. Because of car theft and vandalism many owners want to lock their car away safely, plus people store valuable domestic appliances in a garage making it an attractive target, the more robust your security the less risk there is. As domestic garages are often connected to one's home the security of a potential access point is essential.
Business premises face similar problems but often on a larger scale. Many firms now store business vehicles on premises for overnight charging, EPV's and their charging equipment need to be kept secure along with tools, equipment and of course valuable stocks and materials.
Are you interested in ensuring the safety of your possessions and protecting your business? The team at EPM Garage Doors offer to provide a Free Quotation following a conversation and survey to assess your individual requirements. EPM Garage Doors are made to measure, making use of the available space and they can supply and install a door that matches your requirements no matter how large your garage.

Special Offer:
EPM Garage Doors will supply:
An Automatic Roller Door Measured and Fitted for just £999.
NB. Terms and Conditions do apply, and the price is subject to VAT.
The Door must be a standard fit of 2.3m x 2.3m
Includes Hood, 2 remote controls, 55mm slats in White, Black or Anthracite Grey and Internal Manual Override.
Please, mention The Best of Bury when making contact to take advantage of this excellent offer.

EPM Garage Doors are The Holcombe Suite Room Sponsors and will be exhibiting at The North West Premier Business Fair on 17th March giving an opportunity for interested persons to visit their stand and discuss your requirements in detail and book an appointment for a survey and quotation.
Contact EPM Garage Doors now!