Introducing Santa Paws at Paws for Coffee! With plenty of Doggy Safe Treats and Treats for Humans too!
Paws for Coffee is holding a Christmas Party for Dogs and they would love you to be there! 
Paws for Coffee will hold their Santa Paws Christmas Party on Sunday 19th December between 11am and 3pm. This is their first Santa Paws Party, and the team are proud to create a fun filled event for all the family focused on your much-loved family pets, and your furry friend can have his or her photograph taken with Santa Paws himself!
For your Fur Baby:
 -A photo opportunity with Santa Paws,
 -Treats, hamburgers, and gifts to buy on the day,
 -Personalised gifts to order,
 -Puppachinos, Pawgestives, and Hot Chocolate,
 -Fancy Dress Compawtition.
And for Hoomans- Paws for Coffee have not forgotten you, there will be Mulled Wine, Festive food and snacks!
To avoid disappointment and ensure that your Canine Friends can start Christmas with a party designed just for them please check out the booking information by following the link below.
Paws for Coffee is your ultimate pet friendly Coffee Shop where even Dog owners are allowed! Our faithful companions are often forgotten at Festive times when there are tempting smells drawing their attention and because much of what humans eat is not suitable for dogs they often miss out on the goodies.
Paws for Coffee believe in putting their doggy customer first with mouth-watering specialities that are perfectly healthy tail wagging favourites.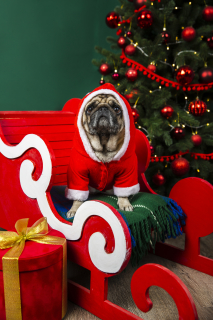 Humans are catered for too, with delicious treats and festive snacks this warm haven for pets and owners is welcoming and very popular, owners will have a lot of other dog loving families to chat with over a coffee and cake, whilst your furry babies are enjoying their tasty treats or sleeping them off. 
Paws for Coffee Bury Ltd is an independent human Friendly Coffee Shop and Bakery 'with a twist' located in the Heart of Town. The creator and owner of Paws for Coffee Karen Phillips, who can often be seen meeting customers, opened Paws for Coffee in 2020 to establish a safe environment in which dogs are not only welcomed but catered for with freshly baked suitable treats for canine foodies.
Book now to make sure that your ever faithful Canine Pal can enjoy being able to meet Santa Paws at the Paws for Coffee Christmas Party on the 19th December!
Contact Paws for Coffee today!