How brilliant is Attention for Detail? Totally! The clue is in the name! If you want a Proper Job Done Why Go Anywhere else?
For several years Tina, the beating heart of Attention for Detail, has built a fine reputation for excellent work amongst her many satisfied customers throughout Bury and beyond. Starting a business is tough in general, but in a world of stereotypes for a young lady to become a 'Handy Woman' it  was going to be harder.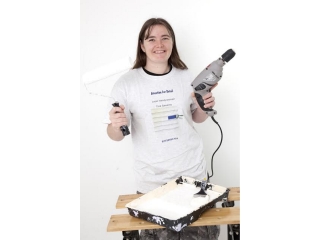 Tina has consistently proved that not only is she exceptionally good at her job, very sociable and trustworthy, and highly competitive, but she is also a cut above the rest!
Attention for detail is a skillset that is lacking in the average amateur DIYer and is absent in many so-called handymen who tend to be slapdash and only interested in making a quick buck, and there are too many examples of such persons being of dubious character. Who would you prefer to allow into your home or business to work relatively unsupervised? For you own sake and that of your family Tina of Attention for Detail is the perfect solution!
When your business name is Attention for Detail taking great care of every task is a matter of pride. In the years that Tina has been Tiling, Painting, Plastering, Decorating, Re-grouting and Wallpapering, plus many smaller tasks around people's homes and businesses the end product is what her customers remember and comment on in their 5star reviews, her customers are the experts! Tina understands that Customer Service is vitally important, being fair with people, going the extra mile to get it right, punctuality, a tidy worker who cleans up after herself, highly trustworthy – the sort of person that is safe in your home and amongst your family and will not violate your trust.
Tina's excellent customer reviews include:
SJ, ILOVEMCR, "Honest, Reliable, Clean, Trustworthy and Tidy!"
A of Chorley, "The room looks fabulous."
C at Sense Copy, "What a great idea for a service!"
Attention for Detail has been a most respected member of The Best of Bury, the home of the most reputable businesses in the region, for well over 8yrs and is highly recommended!
In addition Attention for Detail will take care of many smaller jobs including putting up curtain rails, hanging curtains, fitting light bulbs, in fact there aren't many jobs that Tina cannot do.
Ask Tina today for a Free initial consultation, no job is too small or too large,- give her a call today by clicking here!