Getting a waterproof roof that keeps your home and premises dry is a job for the Professionals! Call GRP Roofing Centre!
GRP Roofing of Bury offers a complete Professional Roofing Service from an initial no obligation site survey all the way to the design, installation and finish of top-quality fibreglass roofing that will keep your home and business premises dry and safe. GRP Roofing is able to advise customers about what needs to be done and how to make it perfect. Based on years of hard work and experience gained their technical knowledge and commitment is unique and the teams excellent customer service and outstanding reputation is respected throughout Bury and the North West!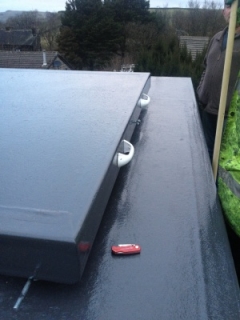 Domestic home owners looking to replace an existing flat roof with a durable product that will last for years will find exactly what they require at GRP Roofing. Plus, newly built garages, extensions etc can have a state-of-the-art new roof that will look good and enhance the look of your home and improve the road side appeal, and its value!
Commercial property owners can expect the same level of professional service and support from the GRP Roofing team.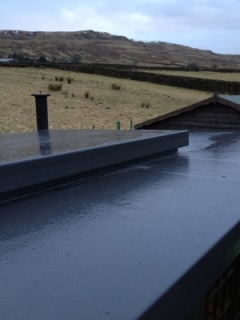 GRP Roofing are specialists at dealing with any roofing requirement such as home extensions and conservatories, garages, walkways, large scale flat roofing on commercial property, and smaller areas including balconies and smaller home extensions.
Not sure what is needed to replace your flat roof?
Firstly, contact GRP Roofing to arrange a no obligation survey, following your agreement to proceed the team will book a day and time to begin work.
GRP Roofing employs Glass Reinforced Plastic commonly know as Fibreglass as this is the ideal solution to protecting flat roofing long-term as it is tough, hard-wearing, weather proof and very efficient! Flat roofs need to be installed correctly so that water runs off, getting it perfect every time is a highly skilled business. It is also possible to introduce a layer of paint so as to improve the appearance of the finished article.
The GRP Roofing Centre Shop stocks a range of essential products for experienced roofing contractors also, enabling them to acquire the best product available at trade prices. Everything needed is stocked and callers to the shop can purchase their supplies from the experts.
Summer is here and this is the ideal time to get roofing installed, or repaired, well before the onset of Autumn and Winter.
To be sure of getting the work done quickly and correctly contact GRP Roofing Bury today - click here