Fun night for 200 raises £2,616 for three local charities
15th April 2016
... Comments
---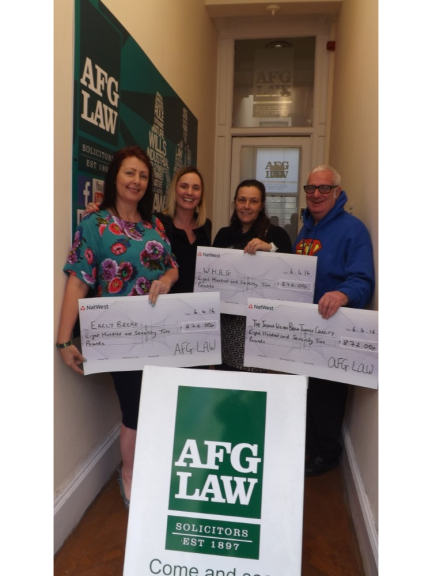 AFG LAW hosted a fun-filled charity night in February at Bury Town Hall. Proceeds from the evening totalled £2,616.00 and will be split equally between Women's Housing Action Group (WHAG), The Joshua Wilson Brain Tumour Charity and Early Break. 
WHAG look after victims (women and their dependent children) of domestic violence in Bury and Rochdale. The Joshua Wilson Brain Tumour Charity supports children and their families who have had brain tumours and post-surgery disabilities.  Early Break provides counselling, support and information to young people aged 18 and under who are around drug and alcohol use.
The night was attended by 200 people, from large companies who booked several tables to individuals with single tickets. With a DJ, auction, casino, raffle and plenty of dancing a good time was had by all and, most importantly, the three charities each received £872 from the proceeds.
'This was our third Charity Night and feedback suggests the best yet! It is fantastic to be able to raise funds for these three worthy charities and help with the work they do in safeguarding vulnerable people. In the three years we have been in Bury, we have built strong relationships within the Bury community,' said Emma Cordock, family solicitor at AFG LAW's Bury office. 'We appreciate the necessity of giving something back and helping to make our communities better, however we can and our charity night enables us to do this.'
'We're very grateful to everyone who joined us in supporting these three fantastic charities. Especially when times are still quite tough for many people and businesses, it's encouraging to see people in our community pull together to make a difference,' added Emma.