Drive Designs Landscapes is warmly welcomed to The Best of Bury, the home of the most trusted local businesses
Drive Designs Landscaping is a locally based company offering a top-quality service that includes Driveway design and installation, Landscape design and construction, plus Decking and Patio building.
The Drive Designs Landscapes team is highly knowledgeable and skilled based on 20yrs plus of hands-on experience. The company is owned and operated by Kane and Kat Lightfoot, they set up the business in 2017 and have already amassed many exceptional reviews from those who know best – their customers! Kane and Kat's ethos is straight forward, they offer an honest unbiased service with impartial advice and guidance based upon their long experience. Every customer is looked after in a friendly and professional manner by their highly experienced team! 
Drive Designs Landscapes offer:
-Bespoke Driveways to transform your homes kerb-side look, enhance its serviceability, increase parking space, and make a durable, reliable and safe surface in bad weather conditions.
-Surfaces include, Tarmac (correctly done), Gravel Grids, Block paving, Concrete Imprint.
-Beautiful Patios, to enhance your home with additional outdoor living space that can be used by the whole family to eat-out in the warmer weather or to party when the opportunity presents.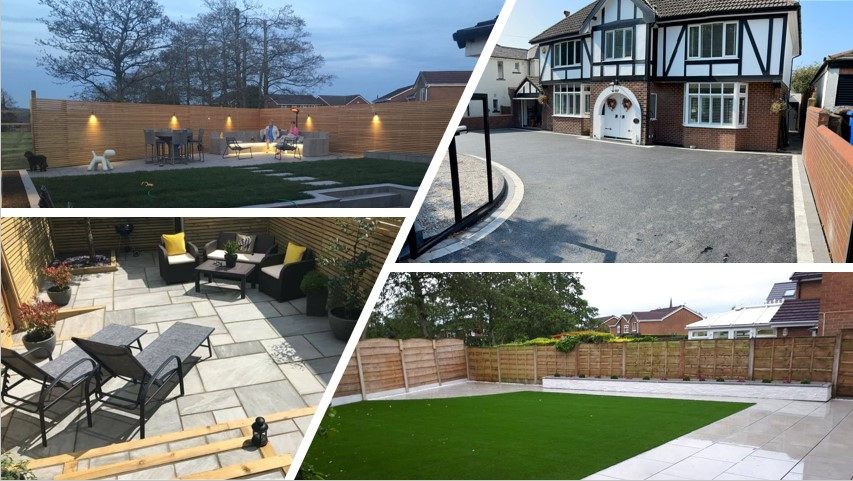 Drive Designs Landscapes can install your patio to run seamlessly from inside to outside and with top-quality materials employed so that your patio will become a more useable 'outside room.' Your choice of flooring materials includes Indian Stone, Natural Stone, Porcelain, Sandstone or Slate, the Company use local suppliers, Holts Turf and Natural Stone. To find out more please follow the link below.
Artificial Turf is an ideal solution for people and organisations wanting a low maintenance 'grass' surface that will never need to be mowed, trimmed or treated for moss! Good quality artificial grass supplied and installed by Drive Designs Landscapes skilled professional team is indistinguishable from natural grass and is increasingly used in Landscaping. For a Professional quality artificial grass surface talk to the experts whose fine reputation is jealously guarded, and they will only supply the very best!
Drive Designs Landscapes will complete the job for you by supplying and installing Fencing in your newly enhanced garden.
Spring is on the horizon and the snowdrops are ready to flower in some shadier spots, now is the time to talk to Drive Design Landscapes about getting your garden in order in 2022!
Contact Drive Designs Landscaping today and get your Free Quotation, (please, mention The Best of Bury)!