Drive Design Landscapes of Bury Deliver Professionally, on time and beautiful!
Drive Designs Landscapes is a locally based company delivering solid results that are exceptionally good looking (improving your property's kerbside appeal), amazingly durable and a brilliant investment! In the process of building the company owners Kane and Kat Lightfoot have created a very creditable reputation amongst their many satisfied customers!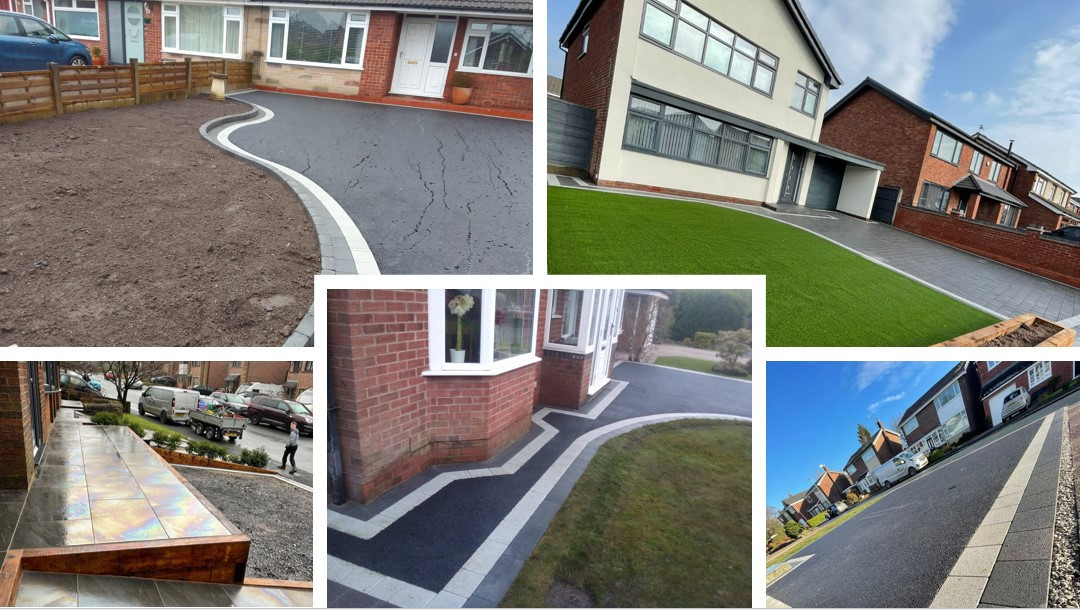 Recently Drive Design Landscapes completed a project in Haslingden, the timeline from inception to completion was Four Weeks! The project included Landscaping and the Driveway. The team completing it was just six lads.
The project included:
480sq metres of Driveway, Tarmac Driveway Double Granite Effect border in black and white,
80sq metres of Patio, Tiles for the Patio in Grey Mist Porcelain,
Plus 40sq meters of drystone walling (completed in 1.5 weeks by Ramsbottom Stone Walling)
Drive Designs is a firm of Landscapers based in Ramsbottom and creating top-quality results throughout Bury and the North West, their reputation for great work is their pride and joy with word of mouth being the way many people get to hear of their professionalism! Kane and Kat are proud to offer each customer a tailor-made design based upon their requirements, budget and style, with a prompt level of service that is first class! Good Customer Service is vital when your reputation relies on it!
Drive Designs Landscapes offer a No Obligation Quotation based upon an onsite visit at your convenience and without any sales pressure. Kane will work through your ideas with you and offer advice based on 20yrs plus hands-on experience to ensure that the result meets with your hopes and aspirations. Kane and Kat run a business that is undoubtably one of the best landscaping firms in the North West.
Outdoor living spaces are very important, the past couple of years have made us all aware of that and 'we' now spend more time at home than in recent years. Having outdoor living space that is usable, enjoyable and functional is very important. Not everyone is a gardener, having a low maintenance patio area where you can relax, barbecue, and socialise could be the perfect solution, Drive Design Landscapes can make it happen!
Driveways are vital to most homes (and premises), tidy, functional, attractive and cost-effective makes sound investment sense! Summertime is the perfect time of year to get the work done.
Obtain your Free Drive Designs No Obligation Quote for bespoke grounds maintenance, block paving, artificial grass laying, turfing and a good deal more today!
Click here and give them a call