Consilium Wealth Management will be Exhibiting at The North West Premier Business Fair on March 17th!
This is the perfect opportunity to visit Consilium Wealth Management at their stand, meet the team and discuss your interests in person. Networking at the Bar will allow you to catch-up with Consilium Wealth Management for a private chat after the exhibition has closed.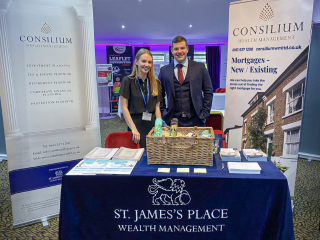 Consilium Wealth Management Ltd aim to deliver exceptional service always with top quality advice to facilitate each clients requirements. The Consilium Wealth Management team of professionals work closely with their clients, their families, and their businesses to ensure that their best advice is bespoke to their individual needs.
The Consilium Wealth Management Team of Wayne, Hannah, Matt and Jack excel at providing an outstanding service ensuring that financial plans are robust, regularly reviewed and rigorously monitored to provide clients with security and peace of mind
Consilium Wealth Management specialises in supplying top class personal advice on a wide range of wealth management strategies and financial options to clients of all ages. The Company team will assist businesses in complex areas relating to corporate financial planning, shareholder taxation issues, and overall strategy planning. The Consilium Wealth Management team is very keen to work with businesses to provide their personnel with access to a financial adviser, discuss concerns and address them head-on regarding mortgages, pensions etc.
Due to Consilium Wealth Managements association with St James's Place Wealth Management Plc clients will we directly linked to major assets.
Mortgages form an important part of the financial services offered by Consilium Wealth Management providing dependable and reliable financial advice.
Services provided by Consilium Wealth Management include,
Investment Planning, with carefully balanced and effective alternatives to match your standing regarding risk v security.
Planning for Retirement, to ensure that when you do decide to retire your security will be based upon expert planning and judicious wealth management. Consilium Wealth Management will review previously made plans or write entirely new ones as required.
Corporate Services, people at director level may not find it easy to find time to consider their own financial status and the possibilities that are open to them. With professional planning from Consilium Wealth Management it is easier to ensure your financial security whilst running a business.
The Concilium Wealth Management Team would welcome the opportunity to talk with you about the financial services available to you.
You may visit them on March 17th them by registering here for free! 
Alternatively, contact Consilium Wealth Management now by clicking here