Connect Comms is Dedicated to Supplying First Class Comms Solutions for Businesses!
Family Business Connect Comms of Bury has shown its commitment to our local business community many times over based on 30 plus years of hands-on experience in the telecommunications industry focusing consistently on innovative solutions to comms issues, working to satisfy customers expectations and providing exceptional customer service. Connect Comms is a long-term member of The Best of Bury, exhibitor and sponsor of the North West Premier Business Fair in which they take their place as a most trusted and respected business in Bury and the North West.
Connect Comms offer a diverse range of communications solutions and tailor-made services to their clients that are easily adapted to suit customer trends and technological advances. Common across all sectors and organisations is the need for up-to-date communications and as we leave the Covid-era behind, hopefully, we have learned that business people do not need to be office based they can work anywhere, from home and remotely.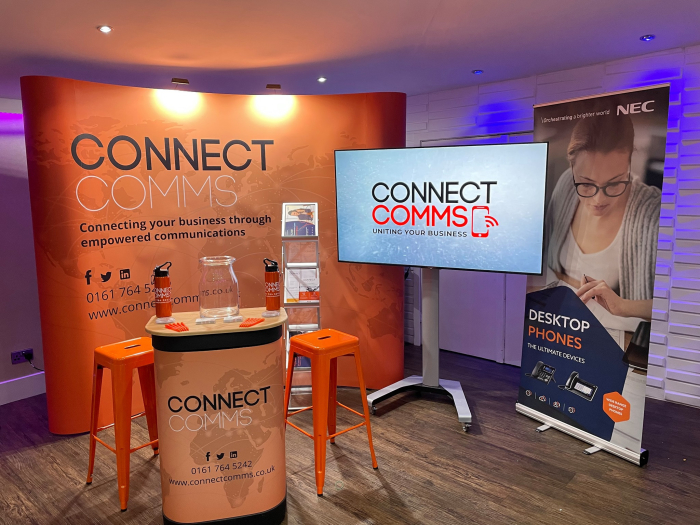 Partnering with Global Telecoms Leaders allows Connect Comms be competitive in all landline, mobile and solution costs to the benefit of their many highly satisfied  customers. Connect Comms Partnership with NEC augments their product range with hi-spec technologically advanced world-beating systems enabling them to provide targeted solutions to professional business people and organisations.
Connect Comms aim to listen to the concerns and priorities of their customers, every business and organisation has specific requirements, with their extensive knowledge and experience the Connect Comms team of professionals is able to recommend cloud-based telephone systems and technologies that will offer the correct solution and significantly improve your business!
As Connect Comms business has evolved the company managers have placed enormous emphasis on their Customer Care and Support. They understand that good communications are essential whilst poor communications can be disastrous for serious business operators. Team members are highly trained and prepared to answer your every concern and problem solve as required.
2022 is set to be an excellent year of growth and positive development in business, existing and new start businesses are putting on growth, dormant sectors – due to Covid lockdowns are rebuilding and apart from a few blips the signs are good, however without 21st Century Communications systems the task will be very much harder.
Connect Comms are offering you a Free Analysis of your Company telecoms without obligation!
Interested?
Mention The Best of Bury when you call, and start Communicating!
More info can be found here.