Connect Comms, Bury, Uniting Your Business better with Univerge Blue Connect!
Connect Comms is at the centre of the comms sector that is creating 21st Century business communications systems through revolutionary, innovative, advances and smart problem solving!
Connect Comms is Partnered with NEC, and this creates an environment in which their product range is improving constantly based on technical mastery well beyond 'in-the-box' thinking, giving Connect Comms immense opportunities to offer their customers 'best in the world' connectivity!
Univerge Blue Cloud services enables Hybrid Working. In recent times we have seen the growth of remote working and the signs are that this new culture will continue long into the future. As remote working becomes an essential across the business world, Connect Comms want to make sure that your remote working team members have the right communication and collaboration tools to be as industrious as possible  and also help them gain a better understanding of remote working best practices. Plus, for remote working personnel you can keep them in the loop and not skip a beat whilst they are on the go. A complete, reliable and affordable Cloud Unified Communications (UC) set-up will provide you with a modern-day phone system at the heart of your business operations.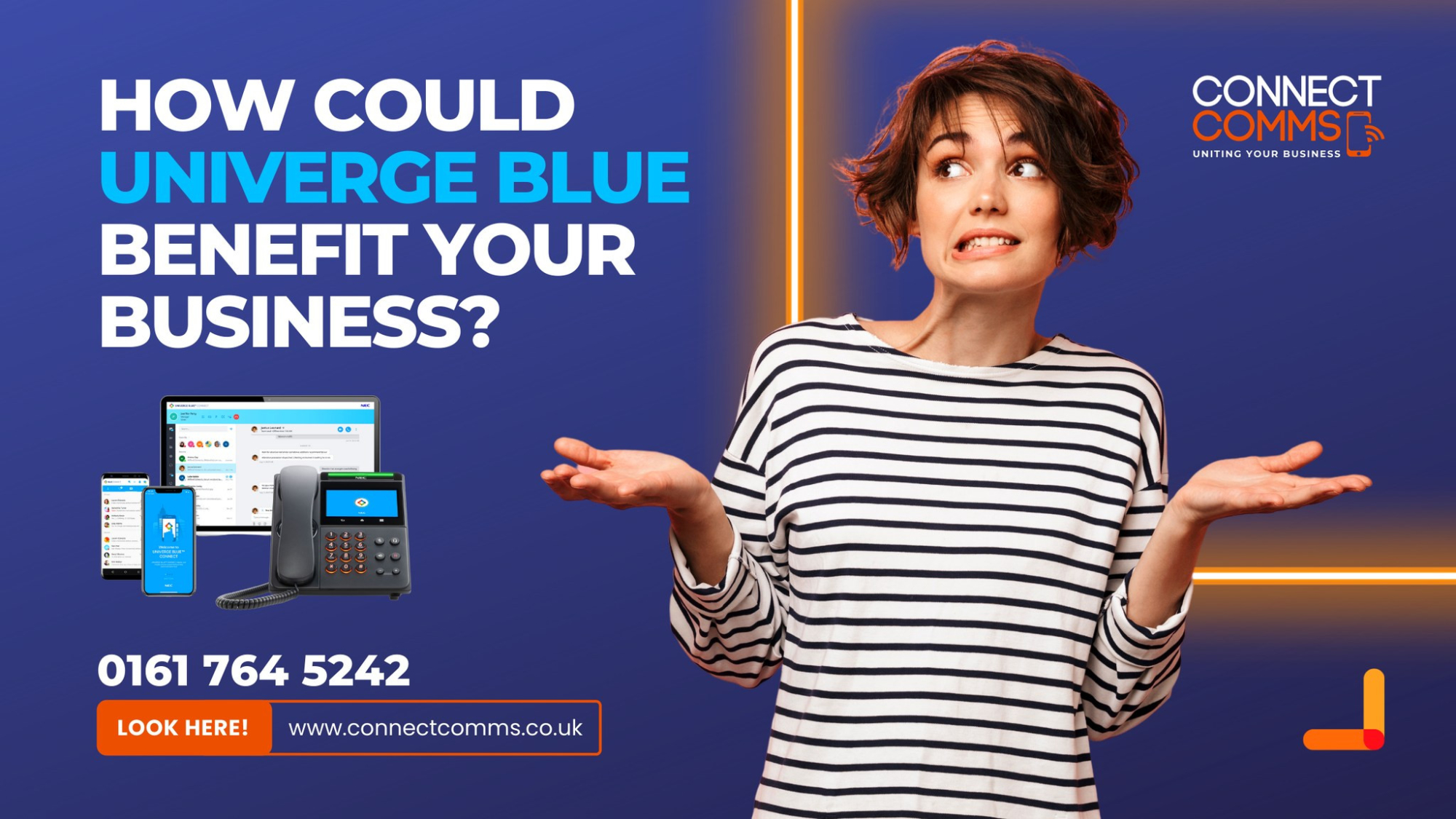 How can Univerge Blue benefit your business?
With Univerge Blue your employees can be there without actually being there! Set your business up for even greater success with a fully integrated communications platform that can go anywhere and offers:
Messaging facility,
Voice comms,
File sharing – excellent for 'in-the-field' personnel,
Chat,
Contact Centre – never out of contact with base and team members,
All-in-one, everything at your fingertips!
Connect Comms is committed to supplying all of their customers with a first (world) class service from start to finish for no extra expense. The Connect Comms dedicated team has more than 30yrs experience of the telecommunications industry and will ensure that they listen to each customer's needs, as all businesses are different it is important to identify what is required in every case from the experts – the clients. A communications platform needs to answer the needs of the business to satisfy the daily needs of each customer, Connect Comms reputation depends on the getting it right every time, and they do!
Connect Comms is a highly recommended member of The Best of Bury, the home of the finest businesses in the region!
Could Univerge Blue by the answer to your Comms shortfall?
Contact Connect Comms today by clicking here and receive Professional advice from The Experts!