Chicken Cottage will be exhibiting at The North West Premier Business Fair, will you visit them there?
Chicken Cottage Bury is our local purveyor of top quality mouth-wateringly tasty chicken and non-meat meals! Situated in the Millgate Shopping Centre the excellent team continued supplying hot food to-go and for delivery throughout the Covid shutdowns.
Specialising in chicken meals, Chicken Cottage believe that 'it is all about the taste', with skilful preparation, careful cooking and excellent hygiene practices throughout  many local people can enjoy a bite during a night out, during their working day and whilst watching football on TV (other sports are available!).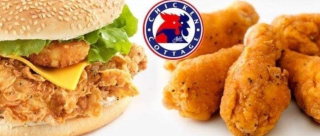 Chicken Cottage began trading in 1994 in London and our local outlet has become a firm favourite in the two years since occupying the unit in the Millgate Shopping Centre. The company now has 75 stores Worldwide – in no less than 10 Countries!
The company's passion for flavour has seen them expand from healthy signature grilled and fried chicken to a number of additional offerings that are perfect for most palates, and for people with dietary preferences, with international flavours and deserts that are a delight on their own!
Chicken Cottage specialise in supplying exciting Special Offer Meal Boxes that can be enjoyed on the premises or to collect or delivered by Deliveroo, Uber Eats or Just Eat, including:
Cottage Wings Box with 6 Grilled Wings, 6 Fried Wings, and 6 BBQ Wings, 4 Regular Fries and a 1.5L Bottle. All for £24.99!
6 Piece Cottage Box, 6 pieces of Classic Breaded Chicken, 4 Regular Fries, and a 1.5L bottle for £16.49!
Chicken Cottage Boneless Box, 10 Crispy Strips, 10 Chicken Nuggets, a Portion of Chicken Poppers, 4 Regular Fries and a 1.5L Bottle at £21.99!
Cottage Fried Box, 8 pieces of Classic Fried Chicken, 4 Wings and 4 Strips, 4 Fries and a 1.5L Bottle, just £23.99!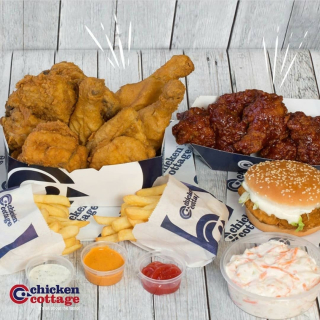 There are additional Meal Boxes in the range up to:
Mega Cottage Grilled Box that includes 2 x Whole Grilled Chickens,  8 Grilled Wings, 2 Grilled Burgers, 2 Sides, 6 Fries and a 1.5L Bottle, this whole family chicken feast is just £41.99.
Entrepreneurs please note: Chicken Cottage is a franchise business opportunity that is too good to miss! Being food based, free of cultural and dietary constraints, and vegetarian friendly, Chicken Cottage restaurants are accommodating to all sections of the community. Whilst you are attending The North West Premier Business Fair on Thursday 17th March visit the Chicken Cottage Exhibition stand and ask for details!
Alternatively for more details, click here to contact Chicken Cottage today!