CD Design Ltd can make your Driveway Kerbside Appeal a Very Smart Investment!
Not everyone is looking to sell their home and move on. Many of us simply want the roadside appearance of our home, or other property, to look fabulous and in doing so improve the durability and practical serviceability of access to our property. Plus, your home frontage could become the talk of the neighbourhood!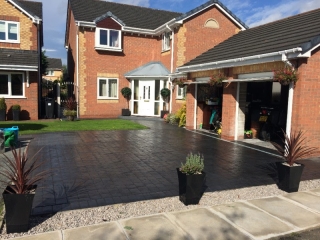 CD Designs Ltd, Complete Driveway Designs of Bury, under the leadership of Tim and Wayne has been turning driveway design into an art form for 15 years. Collectively the team can boast no less than 35 years of combined experience, considerable technical know-how and are happy to transform your driveway, be it a domestic home or a commercial property, anywhere in Bury, the North West and Yorkshire.
Pattern imprinted concrete driveways of any size make a stunning impression on any newly laid concrete area improving grip, water run off is improved, and the end result looks very professional.
As we move toward Winter, with all that our uncertain weather may throw at us, the need for reliable conditions underfoot or beneath ones car or vehicle is becoming more urgent, not least because the guys at CD Designs Ltd want to fit you in well before the festive season. Throwing a party would be made much nicer if your guests can park on your safer new driveway and walk on a pristine patio.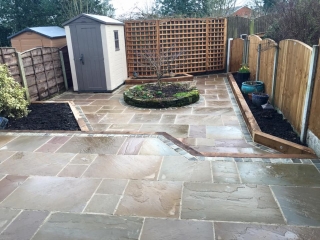 The CD Design plan is a 4-step process to get your preferences onto paper and turn the planning into a superb end product that will last you for years to come.
Step 1: Check out the designs and patterns with CD Design and select the one that you want.
Step 2: Explore the process and logistics and make certain that it is right for your property, the team at CD Design will lead you through the process and discuss the installation etc with you to ensure that you are completely happy to go ahead.
Step 3: Get started by asking for a Free Quotation on your project for a new driveway or patio.
Step 4: Place your order with the most trusted and reliable team who are the experts and who will deal with the whole process from start to finish!
CD Design Ltd, Complete Driveway Designs, are proud of their excellent reputation for outstanding installations and top-quality customer service!
Contact CD Design Ltd today and make your driveway or patio perfect for Christmas!