BusinessLodge Bury just keeps on getting better, what a great place to run your business!
BusinessLodge Bury is a great place to work and to run a business. The working environment has long been a cause worthy of study and with it the realisation that the mental health of ones workforce is vitally important to employers, to 'get the best out of them', to encourage 'ownership' of the business brand, engender loyalty and build community spirit in the team. In light of recent events, lockdown and working from home, employers requiring their personnel to 'come in' to work, rather than staying home, must look to the workplace environment as a magnet to draw people back to the office, workshop etc. It is no longer workable to expect people to work in sub-standard conditions when there are better alternatives available to which their workers will be drawn.
BusinessLodge Bury is a thriving, busy, business like environment where the atmosphere is professional and where the designers of this fine centre of excellence have created the potential, and the reality, of a community of like-minded professional people who enjoy going to work, work hard and give outstanding service to the wider community.
The BusinessLodge Bury team has redesigned the Courtyard at the heart of the premises and refurbished the facility for the benefit of the people who enjoy a sunny lunchtime break together and as part of the refurbishment have re-equipped the Courtyard with very comfortable branded outdoor furniture supplied by The Best of Bury member company Nettl of Bury!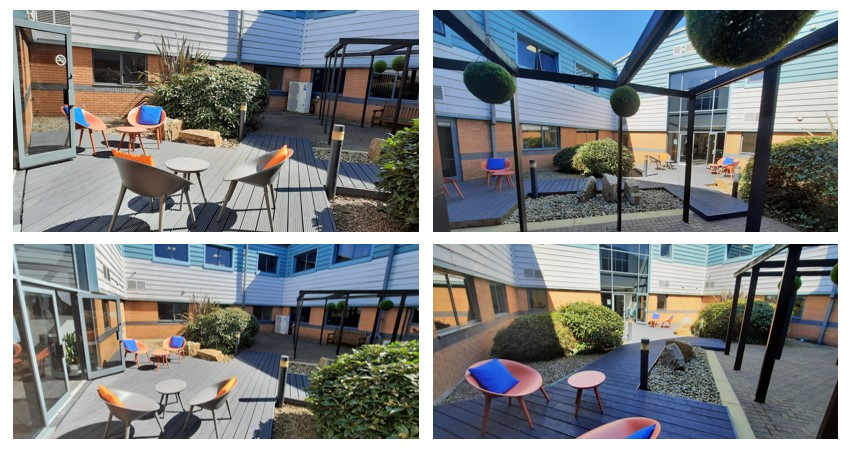 Onsite facilities mean that team members do not need to leave the centre as there are very popular coffee points serving great coffee, snacks and light lunches to help maintain concentration and stay sharp.
Clients of BusinessLodge can usually enjoy The Gallery, the onsite coffee shop, which serves as the caterer for on-site meetings, training sessions and conferences, there are plans for this to reopen Mid July, all being well.
Gym facilities are also available onsite with the latest Techno-Gym equipment to enable clients to keep-fit and healthy without leaving the premises. This free amenity is very popular, not only can you stay sharp, but you save money and time without leaving the premises!
A recreational room, for chilling out.
Breakout areas allow for brainstorming and training type sub-groupings, and the refurbished Courtyard is perfect for mid-session coffee and a chat.
The BusinessLodge Bury motto is 'work hard and play hard', it's good for moral and good for business!
Join the BusinessLodge Bury community in leading success, today!
Get in touch with their friendly team today - click here