Bury College Supports Local Businesses with the Kickstart Scheme
Bury College is proud to be a registered Kickstart gateway provider. The Kickstart Scheme provides employers with the opportunity to boost their teams with energetic and inspired young people through fully funded six-month work placements for 16 to 24-year-olds.
With two billion pounds worth of government funding, the Kickstart Scheme is creating hundreds of thousands of subsidised job placements to help young people into work and support the UK's economic revival.
What are the benefits to employers?
Recruit fresh new talent and ideas into your business at zero cost.

Benefit from fully-subsidised job placements for 25 hours per-week, including associated employer National Insurance contributions and minimum automatic enrolment contributions.

Funding to cover the training and development needs of each young person placed.

Potential to secure the future workforce of your business.
Employers from all industries and across the private, public and voluntary sectors are eligible to apply.

Kickstart applications are open to any organisation, regardless of size, however Sole Traders are currently unable to take part in the scheme.

We can partner with you and apply on your behalf.

Kickstart roles must be new jobs and not replace existing or planned vacancies or cause existing employees or contractors to lose or reduce their employment. They must be a minimum of 25 hours per week for six months, and pay at least the National Minimum Wage for their age group.
Bury College has supported many young people and local businesses throughout their placements.
We Do Code, a software development business based in Bury, has employed two new Kickstarts, Aaron Goddard and Jordan Harrison.
Aaron, 20, said, "The best part of the job is looking at the end-product you have helped make – it is very satisfying." He aims to progress through the business as it grows. Jordan, 21, has particularly enjoyed learning new coding languages. He is also proud of the teamwork skills he has developed. He said, "I really enjoy the feeling of overcoming challenges. You have to be meticulous when trying to solve any problems." In the future, Jordan wants to own his own businesses in a variety of different areas, including coding and web design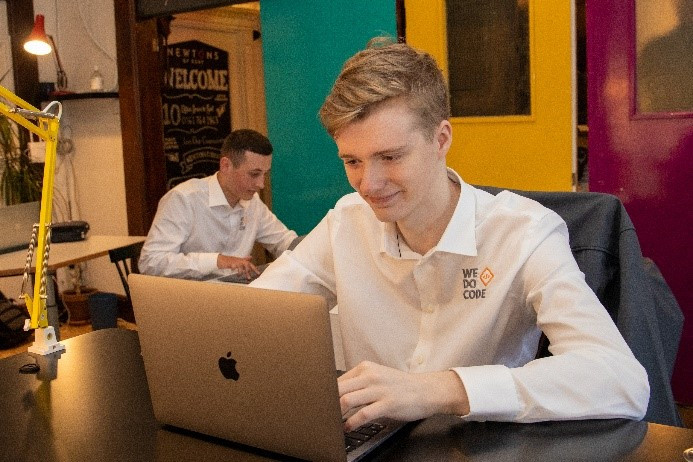 David Beere, Managing Director, said, "Jordan and Aaron have come into the business energetic and excited, willing to be involved and learn, which is really important in a small business, and especially for those in junior developer roles. I am very impressed with their work ethic. They will benefit our business long-term, helping with client projects as we expand. The funding we receive as part of the Kickstart Scheme has been really helpful, as it has meant that we can provide them with the training that best benefits our business and sets them up for their future careers."
A further four young people are also employed with Katsoris Deli in Bury, in a wide range of roles, including baristas, deli assistants and prep chefs. Sofia Constantinou, a manager at the Deli, said, "The Kickstart Scheme has enabled us to create new roles and give the Kickstarts, who in general have come with limited experience, an opportunity to develop and gain new skills. I feel that Katsouris has developed a really good relationship with Bury College and the Job Centre. I think the Kickstart Scheme is a brilliant opportunity for both young people and local businesses."
Rowan Charlson, 20, is one of the young people to benefit from a placement at Katsouris. He hopes to continue working in the hospitality industry once his placement is complete. He serves customers and helps maintain the restaurant, along with two other Kickstarts, Lucy Mandt and Teegan Roberts, 19 and 22 respectively.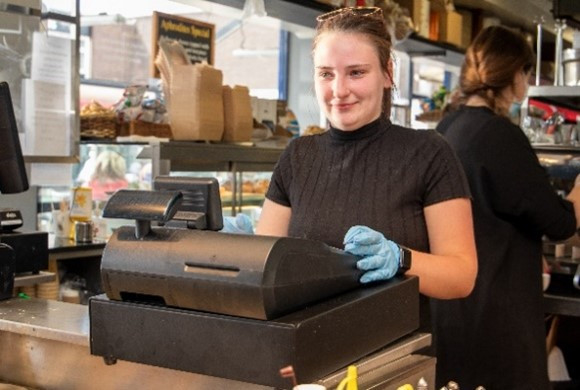 Aaron Knight, 22, is employed as a prep chef at Katsouris through the Kickstart Scheme, and is learning from the Head Chef. He said, "I do loads of cooking at home, but this is my first catering job, and there are so many things on the menu so I am learning fast and gaining loads of experience. Eventually, I want to work in a Michelin star restaurant, and this is a great start for my career. James Martin started his career buttering bread in hotels – you have to start somewhere, work hard, and climb your way up."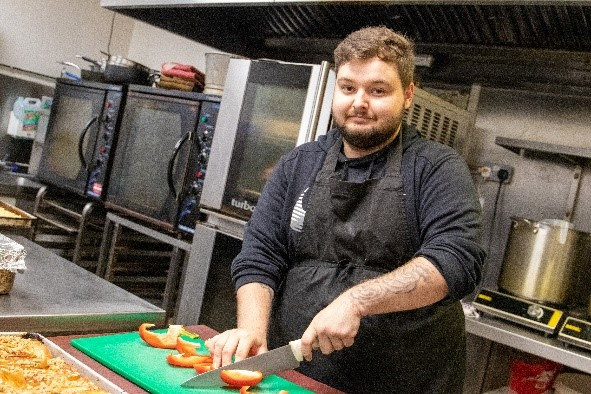 For more information on the Kickstart Scheme, please click here: https://burycollege.ac.uk/employers/kickstart-scheme/