Brightway Cleaning and Home Help is based on Flexibility, Response, Quality and Trust and their many excellent customer reviews prove it!
Brightway Cleaning is our Premier Commercial and Domestic Cleaning Company Plus. Professional level cleaning has become the norm in recent months due to the Covid crisis and precautionary hygiene measures are still in place.
Any working environment, home and even domestic environments can be maintained safer with professional cleaning routines to reduce the spread of viruses, covid is the obvious name that comes to mind, but as we enter the Winter season influenza and other infections can also be neutralised with a pro-active sanitising regime. Brightway professional cleaning teams are well trained and equipped to make sure that your premises are kept hygienic.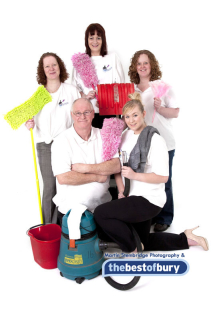 Domestic cleaning services are very important to Brightway Cleaning and the team will take the utmost care to make sure that your home is sparkling clean so that whether you are a business person with little 'down' time or a home owner who is unable to manage and needs a safe pair of hands to clean house, you and your home will be respected. The Brightway Cleaning team is individually trained, and DBS checked for your safety. Brightway Cleaning will take care of your garden too!
Brightway Cleaning Ltd has been a most trusted and respected member of The Best of Bury for well over 10yrs making it one of the longest serving members at the heart of the best businesses in Town!
Commercial Cleaning is important on many levels, Health and Safety at Work - prevention of slips, trips and other hazards and of course infection control. Regular cleaning routines to keep office or other premises tidy and clean are cost-effective, help to reduce transmission of colds and flu and of course Covid 19, and a well-kept 'front of house' gives confidence to all concerned.
Brightway Cleaning specialise in conducting Pub Cleans which is very important in keeping our hospitality sector up and running, after a year plus of lockdown our night-time economy and eateries need to be kept open and that means professional cleaning by specialists. Air B&B turn-around is important too in keeping them functioning efficiently.
Brightway Cleaning Deep Cleaning and Specialist Anti-Viral treatments include:
-Steam cleaning
-Powerful Air Neutralisation and Air Purification
-Industry-grade Surface Disinfection Fog Creation
-Virus Killing Disinfection
Brightway Cleaning and Homecare Ltd is an Award-winning company dedicated to creating clean working and living environments.
Contact Brightway Cleaning today for your Free Quote!