AFG LAW were exhibitors at the NW Premier Business Fair did you meet them there?
AFG LAW Bury is a local Full-Service Solicitors whose extensive Professional Legal Team is fully qualified and open for business! The Team is fully committed to providing Expert Legal Advice and Support for individual members of the community who need help and for people seeking Commercial Legal Services, as evidenced by their presence at the NW Premier Business Fair on October 7th.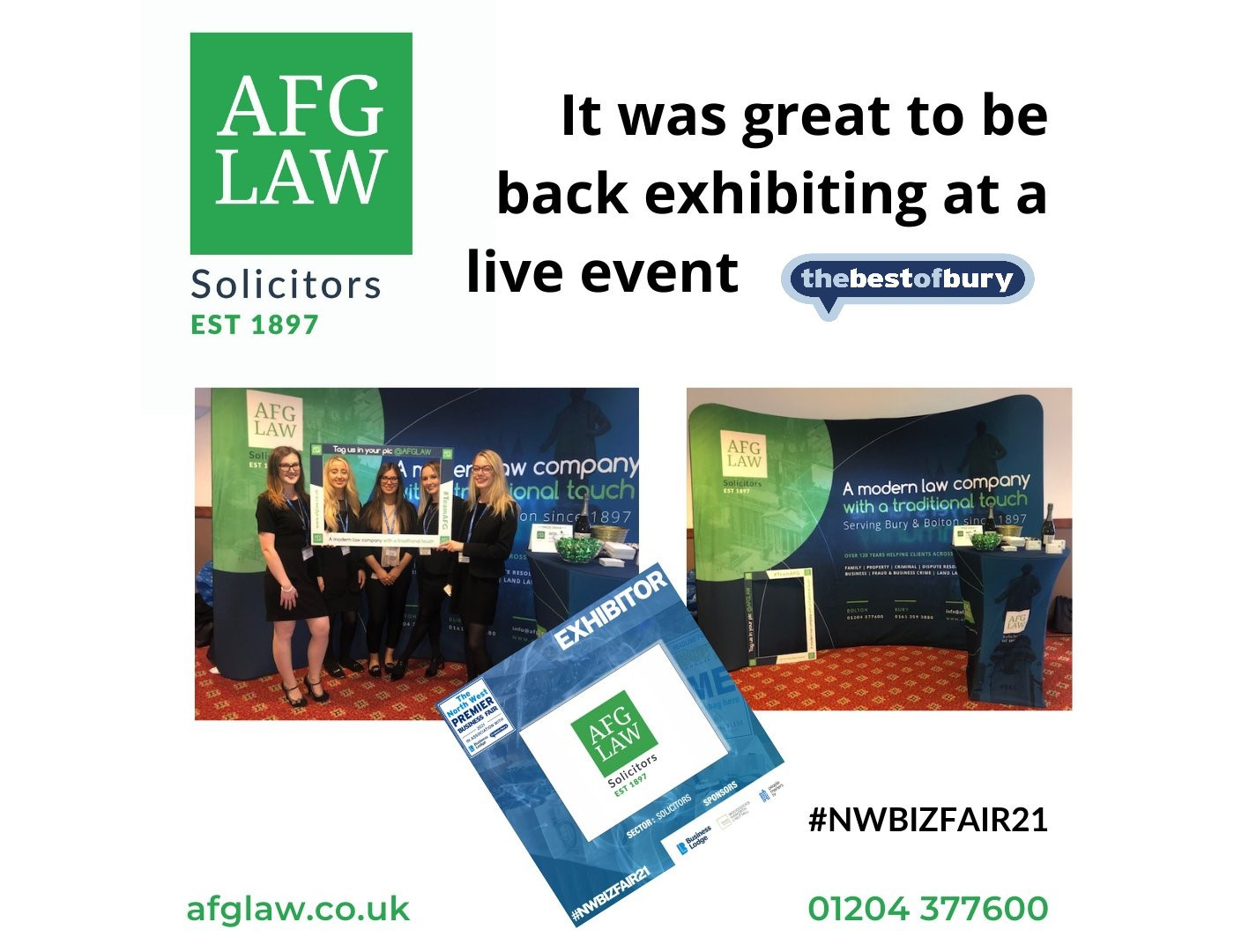 AFG LAW Solicitors is a modern law company with a traditional touch based upon their proud history of serving the people of Bury for over 120yrs. AFG LAW has long  been a cornerstone of the business community and an invaluable long-term member of The Best of Bury the home of the best businesses in Town.
Wills and Probate- Because having a Will is so important AFG LAW offer a Free Will Review. Too many people either don't have a will or have one that isn't safely stored or worse - lost! Having AFG LAW write or review your will, retaining a copy so that they can ensure your wishes are known and acted upon, is important for your family's security.
Family Law-  AFG LAW specialise in conducting such sensitive matters in a non- confrontational way, retaining professional objectivity and respect for all parties, taking into account the long-term consequences of actions and encouraging the best interests of the children. Clients are kept informed of the options that apply including counselling, mediation and court proceedings.
Property Law-  AFG LAW offers an Instant Conveyancing Quote for people buying or selling a house.
Plus, the AFG Residential Property team will assist with Sale and Purchase of Residential Property, Sale and Purchase of Buy-to-Let Properties, Re-mortgaging, Gifts of Property, Transfers of Equity, Trust Deeds and Equity Release.
AFG LAW provide support in Business related matters, including:
-Employment Law, Disciplinary Procedures, Redundancy, Bullying and Harassment, Contract Law, Maternal and Parental Issues for Employers.
-Commercial Debt Recovery
-Property Law
-Commercial Property
-Commercial Law
Dispute Resolution. AFG LAW operates a dedicated Dispute Resolution Team dealing with:
-Commercial Contract Disputes
-Shareholder and Partnership Disputes
-Professional Negligence
-Supply of Goods and Services
-Alternative Dispute Resolution
-Property Litigation and Dilapidations
-Debt Recovery Disputes and Enforcement
-Landlord and Tenants Disputes
-Land and Property Disputes, Boundaries, Rights of way and nuisance
-Injunctions
AFG LAW Solicitors is at the Heart of the Community offering Full-Service Professional Legal Assistance.
Contact AFG LAW today for the legal help that you need!