A day in the life of a Platinum Carer is not easy but it is truly satisfying!
Ever wondered what a day in the life of a carer might be like? We took some time out with the Platinum Care team to find our more about their job and why they love what they do. 
DG – Senior Care Support Worker
"A typical days as a carer isn't typical at all every day is different we can have days where the clients cooperate and days they don't but what we have to remember is they are doing their best, and we are there to help them.
People say this job is easy it's far from easy but it's a rewarding job and the smiles on the clients faces makes it all worth it, being a carer isn't about making a cup of tea its about improving the quality of life".
Some examples of things carers face on a daily basis are - 
Mr G wasn't very happy with the time I arrived as it was too early I understand as he has dementia and thought it was morning not tea time

Mr A who suffers with MS is very happy that we can help improve his quality of life by being able to get him out of bed using a stand aid

Mrs J was in a very good mood this morning we laughed danced

Mr R who is 102 years old and suffers with dementia was teaching me how to slow step this afternoon, this is what he use to do with his wife and wanted to pass on his skills

Miss D was very angry and confused this morning but I understand as it turns out she had a bad urine infection and is on antibiotics
JG – Care Support Worker
"Working in care during Covid has come with a massive challenge for all carers, wearing a mask has been the hardest, some clients don't even know what we look like then others are so confused with them especially those hard of hearing and those with dementia one lady in particular is suffering later stages of dementia and is at violent stage, masks don't make this an easy challenge for us but slowly each day we have reassured her and now the violent outbursts have eased and I have actually had this lady dancing with me.
Moments like this really do make it all worthwhile, we have also faced the challenge of loneliness during Covid the only people clients have had any communication with us the carers they live for our daily visits and we all wish we had longer to spend with them, but with so many others to see we can only spend so much with them, being a carer really does have its ups and downs but each day I get home from a long shift it makes me proud to think I have made a difference in someone's life even if it's just been to make them a nice cup of tea and a biscuit that to some means a lot.
Others its the fact we have noticed a pressure sore appearing and have notified family or district nurses to get the right treatment they need, this job is honestly the best choice I made and I really do love listening to stories our ageing population have to tell".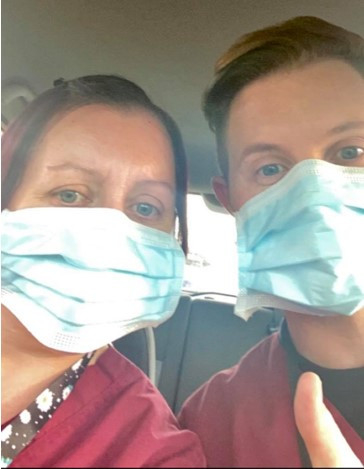 Laura J - Carer
"I have worked for Platinum Care for the past year, I had worked for them previously for 4 years before then but left to further my career and in the process had a daughter. So when wanting to get back into work, being a single parent, Platinum Care was the company I wanted to go back to. They have always been caring and helpful and accomodate their staff.
A typical evening for me out at work is starting at around 3pm, wellbeing checks on our service users, making their teas, having a chat and a laugh with them, making them feel that they are still very much part of society, especially during the pandemic where a lot of the people we care for have been shielding and can't see family or friends, we become the family and friends they can lean on for support.
 Carrying on my evening in work, tasks include medication administration. This has a lot of legal requirements with it. Platinum Care ensure all the correct training is taken care of and support their staff throughout. 
Further on in my evening shift the time comes to put some of my service users to bed. I have one lady I absolutely love going to see she is such a lovely lady, she is a perfect example of why I love my job. Every evening after tucking her in at night she calls me back to her bedroom and thanks me for looking after her. Shes 97, and still so glamorous! 
Overall it's not an 'easy' job, some people will say you're 'just a carer' but I'm not, I'm there when you can't be, I'm the one who ensures your family members take their medication, I'm a cook, a cleaner, a dresser, a shoulder to cry on, a personal care assistant. I've always said to be a carer you have to care, and it's certainly something I love doing for others and their families"
As you can see from these real life experiences, working in care can be a challenge, but it's also very rewarding and now, more than ever, t hose who require in home care are struggling more than ever.
Carers really do make a difference - from providing medical support to making those day to day talks that little but easier and giving some respite to family members who are learning to cope with a new way of life. 
Working in care matters - not just to those who receive the care, but to those who deliver it too. Knowing that you're comforting someone in their time of need and really making a difference to their life is so worth it, even on those tougher days when things get a little more challenging.
All you need is compassion, the desire to make a difference and a little bit of resilience in times of challenge and caring could be the perfect role for you.
Interested in finding out more?
Speak to Platinum Care about the role current roles they have available. You'll be trained and supported every step of the way by an experienced and passionate team who really do make a difference every single day. 
Become a Platinum Carer, join them today! Find out more here