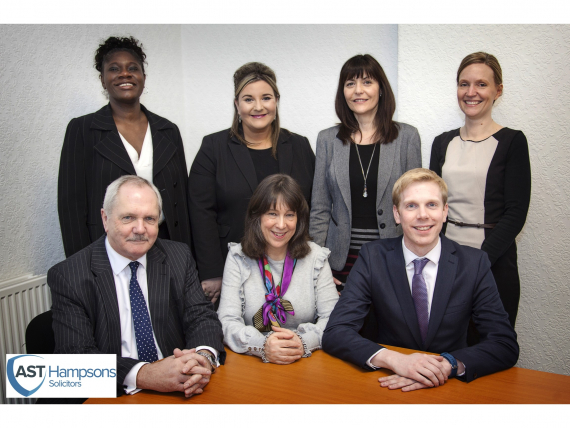 about us
With an extensive background in law, AST Hampsons are a Bury-based solicitors who provide a professional, personal and efficient service. Their service covers a huge range of subjects, from conveyancing to will-writing. You can be sure with AST Hampsons that you will be supported by the friendly team throughout the whole process – whatever it might be.
AST Hampsons has been established since 2001, and was originally the result of a merge from four different legal firms, combining their knowledge and experience to develop a thorough and effective service.
The team at AST Hampsons work hard to ensure that you always speak to a knowledgeable and experienced member of staff, cutting out the need for call centres and putting their clients at the heart of what they do.
You will never be surprised by any hidden costs, everything that the team does is upfront and you will be consulted at every stage of the process. You won't be left waiting too long for an appointment either, as their offices are open six days a week to ensure that everyone (even those who work Monday to Friday, 9 until 5) gets the opportunity to seek legal advice when required.
For You
Clinical Negligence
Whilst the treatment provided by the NHS and privately is usually second to none, there are times when things do go wrong with the care and treatment provided. On those occasions, it is essential that one seeks expert legal advice to assist not only to obtain compensation, but also to play a part in ensuring that lessons are learned so that the mistake does not happen again.
AST Hampsons have extensive experience in dealing with all types of clinical and dental negligence claims and providing assistance at inquests in cases of sudden and unexplained deaths.
Family
At AST Hampsons, we pride ourselves in providing a prompt, discreet and sympathetic family law service in what we know can be a particularly anxious and distressing time. We appreciate the importance of keeping the emotional strain of a family breakdown to an absolute minimum and our focus is centred on achieving the best outcome for your family and most importantly for your children.  AST Hampsons are members of the Law Society Family Law Panel, Association of Lawyers for Children and Resolution and offer advice in a range of issues including divorce and separation; cohabitation disputes; civil partnerships; financial disputes; domestic violence and children matters.
Housing and Property
Whether you're buying or selling a house, the team at AST Hampsons have over 110 years in dealing with a range of property transactions. Moving house is often named as one of the most stressful experiences you can have in life, but AST Hampsons will work to ensure that the process is as smooth as possible for you to enjoy the next stage in your life!
Personal Injury
Accidents happen, but it's when they can be prevented that they hurt the most! If you feel that you've been the victim of an accident as a result of somebody else's negligence, having somebody to fight your corner can be a huge help. AST Hampsons will always push to get you the best possible compensation to help you recover and move on from the accident.
Wills and Probate
Planning for our future is something we've always done, and often doesn't take much thinking about, but when we think about the future which awaits our loved ones once we're gone, often we're too afraid to confront it. Creating a will helps to ensure your assets are inherited by the right people, and that your wishes have been met. The team has many tears experience in dealing with Probate, Court of Protection applications and Powers of Attorney as well as the preparation of Wills.
AST Hampsons hold a Wills Clinic once a month on a Saturday in their Bury office, from 9:30-12:30pm. This is by appointment only, and you MUST book in advance.
For Businesses
Entering a partnership, setting up a business, investing in a franchise or merging businesses all require some form of expert legal advice, and the friendly and efficient team at AST Hampsons can help you get set up and sorted, safe in the knowledge that everything you're doing is above-board!
AST Hampsons also have a dedicated team that can assist with all your commercial property requirements. Whether you're buying, selling, leasing or require help with ongoing practical matters, AST Hampsons are here to help. AST Hampsons have acted for many institutional clients, as well as owner managed and small and medium sized businesses over the years and can provide support and advice to help you through the process.
Simply get in touch with the team to find out more.
Contact us

21/23 Knowsley Street

BL9 0ST

Email us now

Visit our website

find us here

find us on facebook

follow us

This is a live stream from Twitter - not the voice of thebestof!