Wedding season has begun, who can you call on in Bromley?
Getting married is a big deal. There's so much to organise for the big day, so where do you start?
Finding a venue for the reception is probably one of the biggest challenges. You need somewhere that not only holds the right number of people for your needs, has great food but also feels right for you. 
We have some fabulous members that not only have a wealth of experience in hosting weddings but consistently get such positive feedback on the experience they provide.
The Bromley Court Hotel is a brilliant choice for a local wedding, especially if like me, one of your criteria is that you can actually stay at the venue. They can provide your perfect day, hosting weddings from 20 guests to 180. And with 115 en-suite bedrooms, your guests will be able to roll up those stairs at the end of the evening!
If you're a football fan , or even if you're not, the hospitality team at Bromley FC know how to put in a good do! Their facilities are completely versatile for any wedding celebration, as are their menus.
Another great sporting-related venue is the Kent County Cricket Ground in Beckenham. They can host any sized wedding party up to 200 guests in their private function rooms, all of which showcase stunning views across the ground. 
Or if you're after a really intimate, perhaps more low key event for your wedding, then the surroundings at The British Queen in Locksbottom could be perfect. With a gorgeous beer garden and a stunning interior, it's our very favourite pub in our Borough.
Most people would agree that weddings wouldn't be complete without flowers, and where better to get them that Elliza Wade in Bromley. Jan and her team will create the perfect floral theme for your wedding, whatever your budget.
And of course, the bride needs to look absolutely stunning on her big day! We can't recommend Metal Heads Hairdressers enough for creating hairstyle masterpieces, perfect for your wedding day. And not just for the bride but the bridesmaids and mother of the bride too - how pretty is this?!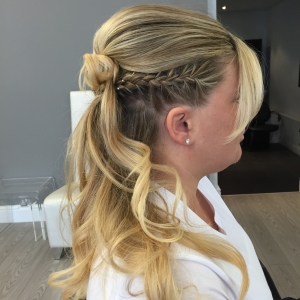 There's also Mulberry Hair Design if you're local to Farnborough Village who pride themselves on delivering the look you're after for your big day. Their clients believe they're a real hidden gem and offer a relaxed atmosphere - the perfect way to begin the pampering for such a special occasion.