Shopping and a cuppa - it's all pukka at 2gether Shop!
14th April 2016
Author: Ivan R
Comments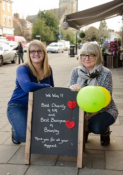 Award-winning 2gether Shop in Chislehurst is a firm feature of the local high street. They've built up an excellent reputation for selling fantastic goods donated by the local community - all in aid of a growing youth project, Chislehurst Youth for Christ. They rely on volunteers to run the busy shop, supported by the fantastic shop manager, Clare. 
Shopping at 2gether really is a chance to wholly embrace the world of reusing and recycling. Firstly, donations into the shop are sorted and displayed, ready for the chance to find a new home!
But beond that, any items that aren't suitable for sale in the shop are picked up by a recycling company, who pay for each bag - so it's definitely a win-win situation. Everything is recycled - even shoes that aren't part of a matching pair - and sent overseas. Isn't that brilliant?!
So not only can you shop with a fabulous conscience, knowing you're making a difference, but did you know you can also pop in for a cuppa and catch up on your emails before you browse those bargains?! With a seating area in the shop and free wifi to boot, it'll be tough for you to tear yourself away!