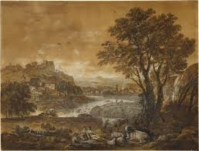 Making Landscape 1778 to 2016
Sunday 30th April
10:00am until 4:00pm See future dates
The museum's art collection is represented in a new exhibition, on the lower ground floor.
This exhibition features a selection from 1778 – 2016, including stunning 18th century watercolours to contemporary photographs.
The museum, which is situated on the top floor of the building, is now closed to the public for the duration of the Eternal Egypt gallery project.
This will be from Sat 10 December to Fri 30 June, Monday, Tuesday, Thursday, Friday and Saturday 9am to 5pm, Wednesday 9.30am to 5pm and Sunday 10am to 4pm.
Admission is FREE
Future Dates
Monday 1st May
9:00am until 5:00pm
Tuesday 2nd May
9:00am until 5:00pm
Wednesday 3rd May
9:30am until 5:00pm
Thursday 4th May
9:00am until 5:00pm
Friday 5th May
9:00am until 5:00pm
Saturday 6th May
9:00am until 5:00pm
Sunday 7th May
10:00am until 4:00pm
Monday 8th May
9:00am until 5:00pm
Tuesday 9th May
9:00am until 5:00pm
Wednesday 10th May
9:30am until 5:00pm
Thursday 11th May
9:00am until 5:00pm
Friday 12th May
9:00am until 5:00pm
Saturday 13th May
9:00am until 5:00pm
Sunday 14th May
10:00am until 4:00pm
Monday 15th May
9:00am until 5:00pm
Tuesday 16th May
9:00am until 5:00pm
Wednesday 17th May
9:30am until 5:00pm
Thursday 18th May
9:00am until 5:00pm
Friday 19th May
9:00am until 5:00pm
Saturday 20th May
9:00am until 5:00pm
Sunday 21st May
10:00am until 4:00pm
Monday 22nd May
9:00am until 5:00pm
Tuesday 23rd May
9:00am until 5:00pm
Wednesday 24th May
9:30am until 5:00pm
Thursday 25th May
9:00am until 5:00pm
Friday 26th May
9:00am until 5:00pm
Saturday 27th May
9:00am until 5:00pm
Sunday 28th May
10:00am until 4:00pm
Monday 29th May
9:00am until 5:00pm
Tuesday 30th May
9:00am until 5:00pm
Wednesday 31st May
9:30am until 5:00pm
Thursday 1st June
9:00am until 5:00pm
Friday 2nd June
9:00am until 5:00pm
Saturday 3rd June
9:00am until 5:00pm
Sunday 4th June
10:00am until 4:00pm
Monday 5th June
9:00am until 5:00pm
Tuesday 6th June
9:00am until 5:00pm
Wednesday 7th June
9:30am until 5:00pm
Thursday 8th June
9:00am until 5:00pm
Friday 9th June
9:00am until 5:00pm
Saturday 10th June
9:00am until 5:00pm
Sunday 11th June
10:00am until 4:00pm
Monday 12th June
9:00am until 5:00pm
Tuesday 13th June
9:00am until 5:00pm
Wednesday 14th June
9:30am until 5:00pm
Thursday 15th June
9:00am until 5:00pm
Friday 16th June
9:00am until 5:00pm
Saturday 17th June
9:00am until 5:00pm
Sunday 18th June
10:00am until 4:00pm
Monday 19th June
9:00am until 5:00pm
Tuesday 20th June
9:00am until 5:00pm
Wednesday 21st June
9:30am until 5:00pm
Thursday 22nd June
9:00am until 5:00pm
Friday 23rd June
9:00am until 5:00pm
Saturday 24th June
9:00am until 5:00pm
Sunday 25th June
10:00am until 4:00pm
Monday 26th June
9:00am until 5:00pm
Tuesday 27th June
9:00am until 5:00pm
Wednesday 28th June
9:30am until 5:00pm
Thursday 29th June
9:00am until 5:00pm
Friday 30th June
9:00am until 5:00pm
*thebestof cannot be held responsible for any changes, amends or cancellations of an event
Contact us:

visit us

Le Mans Cres,
Bolton
BL1 1SE