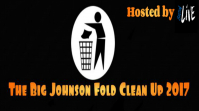 Join www.BoltonLive.org for a weekend of community action , interviews , special features and information surrounding litter , slim bins , waste audits and more.
On the ground at Johnson Fold we will be joined by local community groups, Bolton wide community groups and local residents for two days of clear up on the estate.
If you are about during the weekend please give us a shout and come and join us for the clean up!


*thebestof cannot be held responsible for any changes, amends or cancellations of an event
Contact us:

visit us

Johnson Fold