Divided views on new leisure park plans
15th October 2018
... Comments
---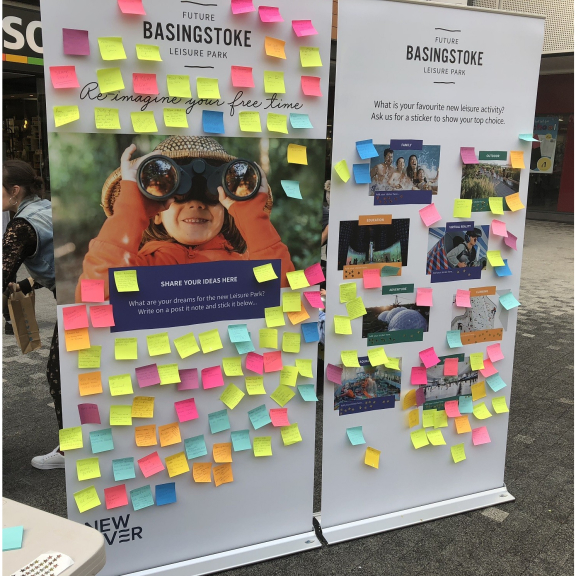 NewRiver welcomed over 1,500 visitors of all ages and from a variety of areas at The Malls and the Aquadrome showing emerging ideas for the proposed £300 million transformation of Basingstoke Leisure Park. At the public exhibitions on Friday 5, Saturday 6 and Sunday 7 October, visitors had the opportunity to learn more about what the future may bring and were invited to share their views and ideas on what they would like to see in a re-imagined leisure park of the future.
Whilst many are excited about the plans, concerns have been raised over the number of retail outlets available and the impact that will have on the town centre, specifically: Top of the Town; The Malls and Festival Place.
On an interactive 'Ideas Wall', NewRiver was able to capture hundreds of ideas that visitors had placed on stickers, ranging from sports-led activities such as climbing walls to innovative entertainment and adventure pursuits.
The exhibition had several themed information panels outlining potential ideas and concepts that could be developed to bring together a range of amazing new experiences and public spaces with something for everyone in the family to enjoy. The panels included consideration of the local context and support for the existing facilities.
The leisure park is owned by Basingstoke and Deane Borough Council, and following the signing of a development agreement in March 2018, NewRiver will undertake and fund the £300 million redevelopment of the existing leisure park with private sector money, with no public money needing to be spent.  
Read the full article on Basingstoke Observer: https://www.basingstokeobserver.co.uk/divided-views-on-new-leisure-park-plans
10/10/2018