Wrexham Housing Project Receives Visit from Finance Minister
7th February 2013
... Comments
---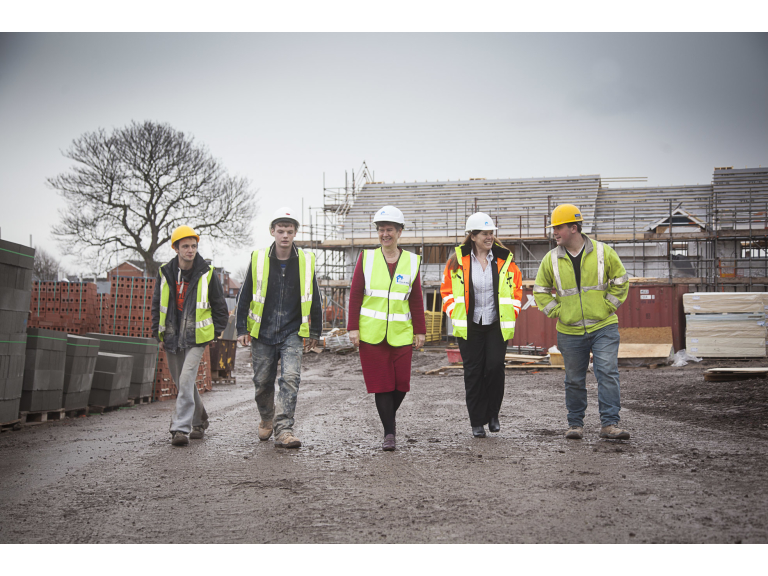 Wrexham's £15m development project was given a boost today by the visit of the Welsh Government Minister for Finance, Jane Hutt AM. 
She was in Wrexham to check on the progress of Wales & West Housing and Wrexham Council's Hightown project that will see the construction of 147 affordable homes, a new medical centre and a community resource centre. The development is expected to bring around £50m to the local economy thanks to the use of local tradesmen and apprentices on site.
The development, which is being built on neighbouring Kingsmills Rd and Rivulet Rd, is partly funded by a £6.6m grant from the Welsh Government's Social Housing Grant Programme, and will be ready to welcome its first tenants in April.
Mrs Hutt said "There are many benefits to this impressive scheme.  Not only does it aim to provide a major boost to the regeneration of Wrexham town centre it will also provide attractive new affordable homes.  Residents will also benefit from a fit-for-purpose community and medical resource.  The scheme itself is also creating significant work and training opportunities for the wider community. I am sure this scheme will be a great success and I hope that this development will go on to benefit people in the local community for many years to come."
The Hightown development is a partnership between Anwyl Construction, Wrexham Council and Wales and West Housing, and all three are committed to building sustainable communities and using a local workforce, including apprenticeships.
The Government Minister was accompanied on her visit by Wrexham Council's Lead Member for Planning and Housing, Councillor Mark Pritchard, who said "Work on this housing development is progressing well. I am delighted that this project is not only providing much needed homes for local residents, but also providing work opportunities for local people. A lot of planning has taken place I would like to thank everyone involved for their continued hard work."