World Class Sport rides through Wrexham!
19th September 2013
... Comments
---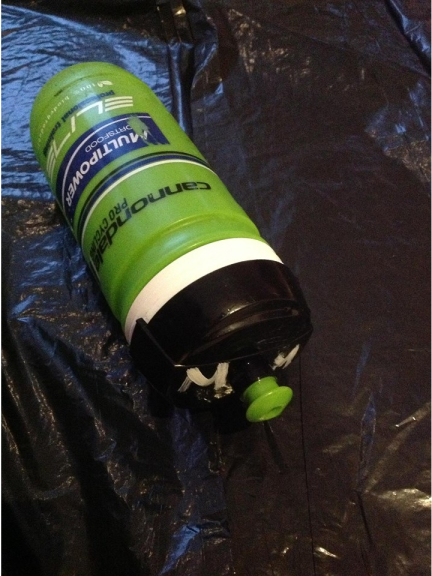 I have to admit I'm not the biggest cycling fan, but the sight of Sir Bradley Wiggins riding past my house is enough to get even me excited.

This was stage 4 of the 10th Tour of Britain and the sport's stars including Bradley Wiggins and Mark Cavendish were leading the way at speeds of up to 40 kmph. Difficult to get a good photo at this pace but thrilling none the less. My good friend and neighbour settled on a photo of a water bottle tossed casually on to her drive by Italian cyclist Moreno Moser. That was the only thing that was sitting still in this premier cycle race.

Local cyclist Rob Partridge from Cymau, who rides for Team UK Youth was part of the peloton which traveled through many of our local villages delighting crowds of supporters including many school children. Rob was also cheered on by Caergwrle's most famous resident, Scooby Doo who dug out his BMX for the day. It must have been thrilling for Rob to ride past his neighbours on the roads he grew up training on.

Thebestof Wrexham is keen to hear if you were in the crowds and what you thought of the experience. The cyclists sprinted through Marchweil, then Wrexham, Llay, Caergwrle, Pontblyddyn and on to Mold and other Flintshire villages before heading to Snowdonia.  Did you even realise that these men in lycra who sprinted past you yesterday were indeed part of Britain's cycling royalty? No matter - many folks did and it was an exciting moment for Wrexham and North Wales.

Residents of the region, particularly those near the routes to Snowdonia are familiar with lycra-clad cyclists in neon colours, bright glasses and stylish helmets swooshing past us on their way to the challenging terrain of Snowdonia. It's just not often that they are Olympic medalists. Last summer is still a fresh memory for many of us and the goose bumps we had watching many of our hardworking British athletes achieve such unprecedented success on the podium. So, it's no wonder that the crowds came out in force yesterday to show our appreciation.

This stage of the race which started in Stoke and finished in Snowdonia National Park after 188.4km, ended with Mark Cavendish the victor thanks to some special manoeuvring by Mark's teammates to guide him safely through the final sprint to claim the Stage 4 title. There are 4 more stages to go in this Tour of Britain. Good luck, Rob!