How to make perfect pancakes
11th February 2013
... Comments
---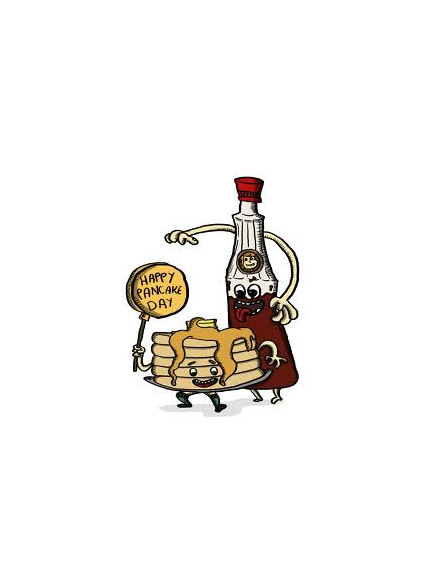 It's one of my favourite days again - pancake day!
Pancake Day, or Shrove Tuesday, is the final day before Lent, a Christian festival starting on Ash Wednesday and ending on Easter Sunday.

During Lent, Christians traditionally give things up, so Shrove Tuesday became the last chance to indulge and to use up the foods that aren't allowed, such as fat, butter and eggs.

The name Shrove comes from the old word "shrive" which means to confess. On Shrove Tuesday, in the Middle Ages, people used to confess their sins so that they were forgiven before the season of Lent began. (copyright of projectbritain.com)
Pancake Recipe
There are loads of ready-made mixes you can buy from the supermarket where you just add milk that make it really easy to serve delicious pancakes to your family. But if you want to try making them from scratch, we've got an easy-to-follow recipe that'll guarantee you'll only ever put perfect pancakes on your plate.  We can't be held responsible for any accidents caused by careless pancake tossing though, so please be careful.
Here's what you need to make them:
120g or 4oz of plain flour
A pinch of salt
2-freerange eggs
210ml or 7 fl oz of milk (semi-skimmed)
90ml or 3 fl ox of water
1 tbsp of vegetable oil
Generous knob of butter
The Method
Grab a large mixing bowl and mix the flour and salt together
Form a well in the middle of the mixture and pour in the eggs
Using another bowl, mix together the milk and water
Return to the original bowl, and beat the eggs into the flour and gradually mix in the milk and water until it resembles single cream
Add the oil and leave to stand for 30-mins
Melt the butter in a pre-heated non-stick frying pan, and ladle in the pancake mix. Cook  for around 30-60 secs or until golden brown
Flip with a palette knife and repeat. Or, if you're feeling brave, flick the wrist to toss the pancake into the air and catch it on the way down!
Fold and serve with your favourite topping. We recommend lemon juice and sugar or gorgeous golden syrup.
Enjoy!