Buy Local - Support Wrexham
17th May 2013
... Comments
---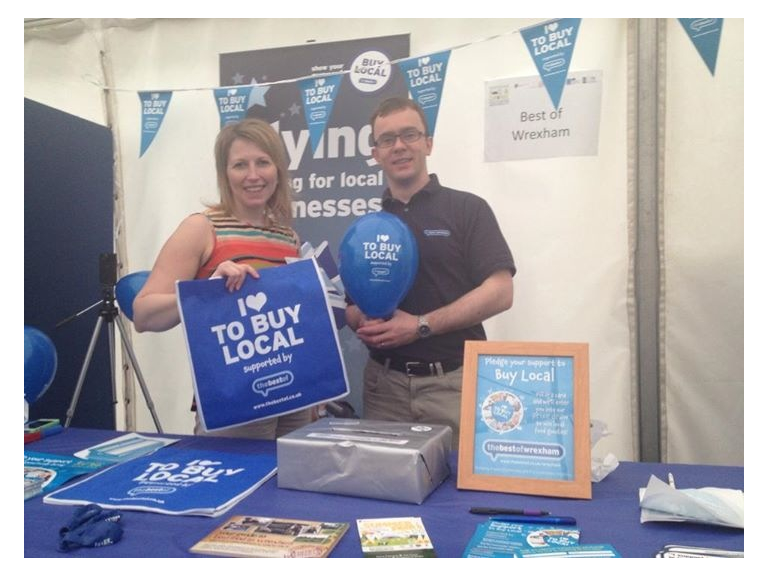 Thebestof Wrexham is the ultimate local business guide. We are a hub for thebestof everything local where you can find the best businesses as recommended by real local people!
The team at thebestof Wrexham is excited to be participating in a national Buy Local campaign organised by thebestof UK. For 7 days from June 3 to 9th, Wrexham businesses will be asked to participate and help champion other local businesses. The concept of buying local is not new – it's been a hot topic in the past few years for a number of reasons; but it's not just about helping the environment. There are many attractive reasons for consumers and businesses to participate in a Buy Local drive. It's an opportunity to champion local business, attract local people, and build new relationships – all working together to build the local community.
During the month of May, look out for thebestof Wrexham's "Buy Local" stickers which will be appearing in shop windows. Whether you are a member or not, thebestof Wrexham is encouraging as many local businesses as possible to support each other and build local interest in our community.
One of the key elements of the campaign is the opportunity to pledge your support to local businesses on thebestof Wrexham website. Every day during the week of 3 to 9th June, there will be a draw from all who have pledged their support across the UK for five lucky winners of £100 – to be spent at a local thebestof business!
Thebestof Wrexham will be actively involved with promoting the Buy Local campaign in the area. Championing local businesses, helping them to grow and prosper – it's thebestof Wrexham's commitment to the community. Follow the campaign on thebestof Wrexham's website, blog, Twitter and Facebook. Who could you support locally? You can start by looking at the business directory on thebestof Wrexham's website.
For more information on the Buy Local campaign contact thebestof Wrexham team. You can pledge your support for Wrexham, and don't forget to order a window sticker for your business. Show your support for the local suppliers in our community.