The "build it and they'll come" mentality simply does not work these days. You have to put yourself out there to seize the interest of attendees, gain new leads, and sell to the audience!
You need to show you care
Attendees are more likely to approach you if you acknowledge their presence. This seems obvious; so don't just sit there in a chair as folk walk up to your stand! Even if you're with another customer, take the five seconds to make eye contact and say "I'll be right with you." 
Don't launch into the sales pitch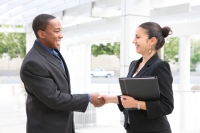 You won't gain anything by forcing attendees to hear about your products or services the second they approach! If people seem interested, then take a minute to talk to them and uncover their reasons for seeking you out.
Have enough staff
Understaffing is no good for anyone as you may lose potential customers. Always better to have too many people than not enough supporting your stand. If it looks crowded with your staff for certain periods, send them out to visit other stands. If you are struggling to find extra support, or you are a small business, then ask friends to work on a volunteer basis in exchange for a free meal or some work. Sometimes it's impossible to obtain the coverage you need, and that's okay, but a risk.
Business cards
Not every trade show attendee is there to buy right away. Do you have something tangible for your leads to walk away with? A simple business card is often all you need. Don't forget to ask for theirs as well, as mailing lists are also good for keeping the "I'm just looking" crowd on your radar after the show.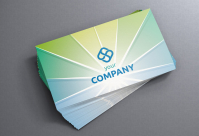 Have some fun
Professional behaviour is appreciated by all, but you can get away with some fun and games when the mood strikes. For example, you could play music at a reasonable volume, or include a competition at your booth to catch the eye. Using colorful tablecloths and signage never hurt anyone, either. Just remember that there's a time and a place for humor and jokes, so use your discretion on a per-customer basis.
People are always in a hurry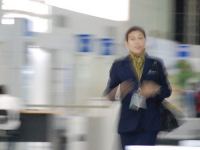 Many attendees rush through trade show aisles even if they've just arrived—perhaps they're afraid they won't see everything in time. No matter what the reasoning, don't take up too much of guests' time with your introduction when they come to visit you. 
Don't leave them guessing - tell them what you do
Do you have a sufficient number of banners, signs, or company literature? Is your product or service obvious to attendees? Double check that your company objectives are clear, especially if you offer a complicated or specialised service.
Keep Cool!
Expo centre's will be either too hot or too cold, so always plan for temperature extremes, and dress appropriately. You'll probably be staffing the stand for hours at a time, so you might as well be comfortable.
We all love chairs!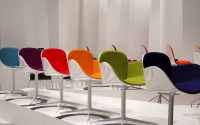 If it is an all day event, then we have  been on our feet for hours, including the attendees. Make space for some chairs if you have room,  visitors will be attracted to your seating area and probably be more likely to talk to you if they're relaxed. 
Be prepared
Always have a back up plan, as the best laid plans for your event can fail. From your demo not working, no wi-fi as promised, or staff caught in traffic. Your back up plan may be as simple as having a briefing for all staff the night before, or a fact sheet for all staff members, so everyone can cover each in other.