Mottisfont opens new Welcome Centre
Built in response to Mottisfont's rapid increase in visitors over the last few years, this new exciting building contains a new Visitor Reception, shop, plant sales area and toilets, as well as places to meet people and plan your visit.
The new building provides a more spacious and welcoming visitor reception area with tables and chairs, and a wood-burning stove that will be supplied with logs from the estate. Members will be able to take advantage of a fast-track entry during busy periods.
A particularly special feature to look out for in this new area is a stunning 8 metre-long art work by Anna Heinrich and Leon Palmer, a photographic 'capriccio' or architectural fantasy that introduces some of Mottisfont's hidden corners through a series of illusionistic spaces.
The light and airy shop is a great space to browse the National Trust's fantastic variety of products, with a new spring range in place as the Welcome Centre opens.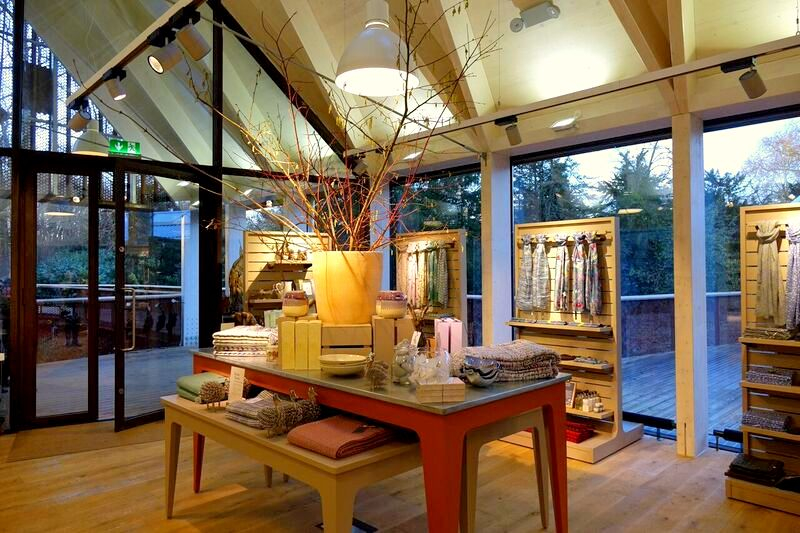 The Build
The design of the Welcome Centre is inspired by barns and other farm buildings in the local area. The architects, Burd Haward, wanted to base their building on local rural Hampshire architecture and on Mottisfont's landscape.
The walls are made from wood and glass, to reflect the wood and water found in the estate. The land itself is reflected in the choice of Cor-Ten steel for the roof and some outer walls. This is a distinctive, 'rusty' looking material that has been used to great effect in a number of buildings and sculptures, including Kew Gardens and the Angel of the North.
The building's steel screw pile foundations were designed to have a minimal impact on the landscape, and there are a number of other features which help minimise the Welcome Centre's effect on the environment. Solar thermal panels have been installed on the roof, and the building is heated by a biomass boiler, fed with logs sourced from the estate.
---
The £3.5 million project has been made possible by investment from the general fund of the National Trust, in the form of a loan which Mottisfont will pay back with interest over a number of years.
As well as providing a more fitting welcome for visitors, building these new facilities and moving the shop also allows Mottisfont to create a much-needed additional café in the stable yard, which will be known as the Coach House Café.
Opening in time for February half term, this new café will be a great place for light lunches and other refreshments, and is very accessible for families. The Stables Ice Cream parlour will serve a wide range of scoop ice cream on sunny days, and the Old Kitchen in the house will continue to serve a full range of meals, cakes and drinks on china.
For more info go to their website.