There was a time, not too long ago, when the very idea of English wine was the stuff of jokes, certainly across the English Chanel there was considerable derision about the very idea of 'fine wines' coming from this fair Isle.
However, due to the climate, our rich soils and very careful and gifted viticulture there are indeed many very nice wines available through our wine cellars and indeed from the vinyards themselves directly in some cases.
So, what is available from English wine producers?
A full range of flavoursome reds, roses, white wines, sparkling wines, desert wines and more. Organics and environmentally sound sourcing of materials is a given in most cases. Flavour though is key, and many of our indigenous wines are rich and fine indeed.
Most of the English vinyards are situated in the south of England, including some excellent examples here in Hampshire talking advantage of the sun warmed environment, great soil and sub soil conditions, excellent water supplies, fine grapes, first rate facilities and easy access to markets in the United Kingdom and abroad. The more enlightened wine buffs will appreciate that conditions in England, especially the South of England, are remarkably similar to those of Northern France, the Mosel region of Germany etc., and with the advent of many World wines English wines are rather better to the taste than some from far flung parts of the World and more reliable, plus they have a rather better carbon footprint.
Hampshire-based Foremost Wines serves a growing community of wine enthusiasts across the UK. "We love wine, and we enjoy sharing our passion with our customers and our wine club members. Visit our online store or meet us at one of our many wine tasting events."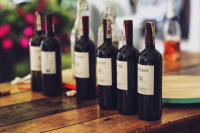 There are a number of very fine vinyards in the Winchester area, some with visitor centres, tours around the site and more. Using oak vats and traditional methods that have been passed down through the generations of wine makers, these artisan cultivators and producers are actively creating a fine wine culture in our midst. Fine quality English produced wines include Petit Verdot, Cabernet Sauvignon, Cabernet Franc, Chambourcin, Chardonnay, Sauvignon Blanc, Voignier, and Muscat.
Winchester Wine Festival will be held on November 25th and 26th in The Guildhall, with BBC 1 wine experts Susie Barrie & Peter Richards who will be leading the fun and no doubt sharing their extensive knowledge of wines in general. It is to be hoped that the Winchester Wine Festival includes a celebration of all that is best of local English produced wines.
Wines are very much a personal matter, one man's taste is another man's distaste, however, in blind tasting trials many English and Welsh wines have come out on top. Some of our major supermarkets have English wine sections displaying some very palatable wines that would grace any side board and exhilarate any palette.
The Best of Winchester recommends English fine wines produced in Hampshire and recommends wine lovers to ask their favourite local wine retailers about availability. Enjoy.