Santa Fun Run at Hatfield House: Sunday 4th December
21st September 2016
... Comments
---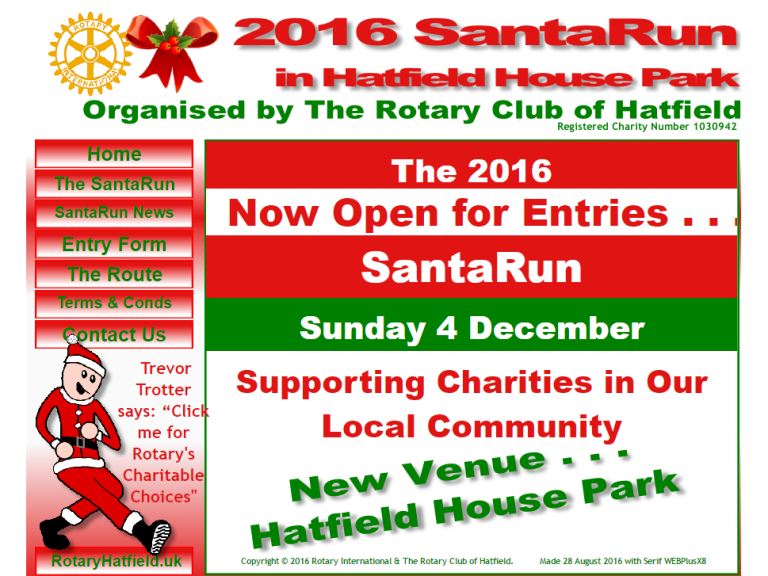 The Santa Run will take place at Hatfield House on the first Sunday in December this year. It enables local charities and other organisations to raise money for themselves, and local residents, who want to get into the spirit of Christmas early, the chance to raise money for worthy local causes.
Come and join in – it's great fun.  You simply enter here, pay an entry fee, organise your own sponsorship (sponsorship forms are available). We supply the Santa suits (one size fits all) and Rudolph antlers for little ones.  The atmosphere is relaxed and jolly as lots of Santas and Rudolphs run round Hatfield Park.  Any money left over from the entry fees also goes to support local charities. 
The route around Hatfield House Park are online and we estimate the lap to be 2.5km.  You can do as many laps as you want – so long as you finish by 12 noon. So set yourselves a challenge and do something to help local charities. 
If you are a local business – why not use the event as a team-building exercise?  If you need a target to get fit – how about setting yourself a 10k challenge? 
We have 350 Santa suits – so first-come, first-served. 
Entrance fees are £15 for Adult – inc Santa Suit (Full suit, hat, beard & belt)
Young people & children £10 – inc Santa Suit ( small sized suit, hat & belt but no beard)
Under 5s - £5 – inc reindeer antler headsets (no Santa Suit for that size) 
Any questions, please just contact us.