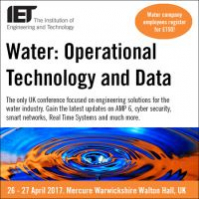 The only UK conference focused on engineering solutions for the water industry. New updates on AMP6, cyber security, smart networks, Real Time Systems. Water company employees register for just £150!
Join the UK's water companies and key component and solution suppliers at the only UK conference dedicated to the engineering aspects of the water industry.
With two full days of technical content, the conference focuses on communication and monitoring advances that are reaping rewards in asset management and systems control.
By attending, you will understand how to exploit the business benefits of this innovation whilst avoiding the potential security risks; hear lessons learned from AMP 5 and appreciate practical case studies from water companies adapting to rapid change.
Key themes of the conference
• Cyber security in the water industry
• Communications
• AMP 5 upgrades and lessons learned
• AMP 6 and future plans (including competition)
• Innovations in the use of asset management performance data
• Case studies from the UK and beyond
Keynote speakers
• Simon Hall, Water Sector Lead, National Cyber Security Centre
• Mark Macaulay, Water Supply Strategy Lead, Irish Water
Other leading experts include
• Simon Harrison, Chair WITS and Telemetry and Automation Manager, Anglian Water
• Kevin Henderson, Network Planning Manager, Bristol Water
• Stig Knudsen, Product Manager, Kamstrup (Denmark)
• Jerry Trowbridge, Operational Technology Manager, Northumbrian Water
• Pearse Bradley, Head of Telemetry and Telecoms, Northern Ireland Water
• Stephen McIntosh, Wholesale Programme Manager, Scottish Water
• Bill Schindler, Head of Infrastructure Service and Strategy, Severn Trent Water
• Natasha Grange, IT Delivery Manager, South West Water
• Dave Ogden, Head of Operational Technology, United Utilities
• Stuart Combellack, Deputy Chair WITS
• Chaired by: Charles Williams, Strategic Business Director, Sweco
Water company employees can attend for just £150!
Booking: https://go.evvnt.com/108140-0
Category: Conferences, Energy and Environment, Water
Price:
IET Member: GBP 350,
Non Member: GBP 400,
Water companies: GBP 150
Speakers: Simon Hall, Water Sector Lead, National Cyber Security Centre, Mark Macaulay, Water Supply Strategy Lead, Irish Water, Anglian Water, Bristol Water, Kamstrup, Northumbrian Water, Northern Ireland Water, Scottish Water, Severn Trent Water, South West Water, United Utilities
*thebestof cannot be held responsible for any changes, amends or cancellations of an event
Contact us: 01438765650

visit us

Mercure Warwickshire Walton Hall Hotel and Spa, Wellesbourne, Walton, United Kingdom
CV35 9HU