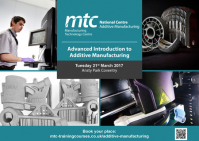 Understanding the benefits of Additive Manufacturing for UK manufacturers.
Additive Manufacturing is enabling cost effective production of highly complex components in relatively low production quantities. This is giving designers unrivalled freedom, unlocking their creativity and fostering a new generation of entrepreneurs able to explore new market opportunities without the high barriers to entry associated with conventional manufacturing.
As a result, the MTC, home of the National Centre for Additive Manufacturing, is proud to present this one-day advanced introduction course. Delivered directly by our expert engineering team, this course will provide you with the insight you need to make sense of this growing and disruptive sector.
"This course is a must do for anyone interested in Additive Manufacturing. The course involved seven of the MTC's Additive Manufacturing experts, who provided excellent insight into this emerging technology."
Dr Anthony McAndrew - Cranfield University.
WHAT TO EXPECT:
The aim of this EAL approved course is to provide you with an advanced introduction to the associated principles, processes, materials and design approaches of additive manufacturing.
Upon completion of this course, delegates will:
- Gain an understanding of the principles of Additive Manufacturing (AM).
- Get a broad appreciation of the range of AM processes and their characteristics.
- Gain an understanding of the approaches to design for AM, including design for performance and manufacture.
- Gain an understanding of the techniques for inspection of AM components.
- Gain an understanding of processable materials and material properties.
- Gain an appreciation of the standards being developed for AM.
- Gain an insight into the future direction and potential applications of AM.
Duration: 1-day (09:00 - 17:00).
Delivery Method: Engineer(s) led presentation with some interactive and discussions activities.
No. of delegate places (per course): 12.
Category: Classes / Courses | Professional Training.
Tickets: https://go.evvnt.com/85161-0
Prices:
Standard Delegate Fee: GBP 450.00,
MTC Members Fee: GBP 399.00.
*thebestof cannot be held responsible for any changes, amends or cancellations of an event
Contact us: +442476701569

visit us

Lloyds Bank Advanced Manufacturing Training Centre (AMTC), Pilot Way, Coventry, United Kingdom.
CV7 9JU