REDROW OFFERS 20% DISCOUNT FOR FIRST-TIME BUYERS IN WARRINGTON
The Brook at Taylor's Chase now features two-bedroom apartments sold at 80% of market value under Redrow's Advantage banner, similar to those pictured.
Would-be buyers striving to get their foot onto the property ladder are being offered a potential leg-up at a popular new homes development in Great Sankey, Warrington.
The Brook at Taylor's Chase comprises a range of carefully-crafted two, three and four-bedroom homes and occupies a convenient location, just a few minutes from the M62 and even closer to the main A57 Liverpool Road.
Now, first-time buyers could have the chance to experience the sought-after lifestyle that the Sophia Drive development has to offer, by purchasing a brand new home under Redrow's 'Advantage' banner for only 80% of the market value.
Redrow's Advantage scheme is subject to qualifying criteria and is designed to help first-time buyers with a specific need – such as wanting to stay in the area where they live or work, a growing family or a career move that has resulted in moving to a new area.
Lesley Myers, sales manager for Redrow (Lancashire), says: "The aim of Advantage is to support buyers who are really in need of a place of their own but couldn't otherwise afford it and we're extremely proud to be helping the next generation onto the property ladder.
"The Brook at Taylor's Chase is a really great place to begin that journey. This development has everything a growing family or young professionals could want: great commuter links and a superb collection of schools, shops and leisure facilities right on its doorstep."
There are some great two-bedroom apartments currently being sold under the Advantage banner, with discounted prices from only £112,000. Features include high-specification, integrated appliances, a separate laundry area, built-in storage, bathroom with separate shower, open plan kitchen, dining and living area and a Juliet balcony to first and second-floor properties.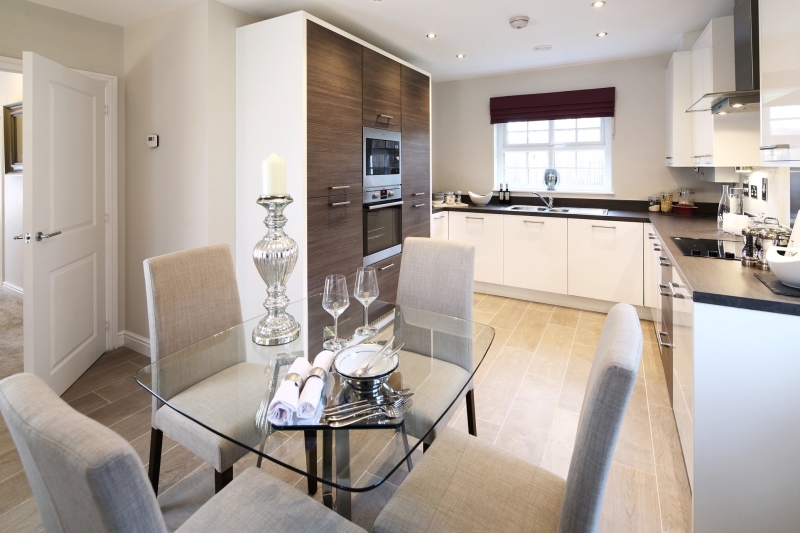 Advantage customers at The Brook must fulfil a specific criteria: that they are first-time buyers or not currently owning their own home; have a combined household income of less than £50,000 pa; are able to demonstrate a need for the type of home they wish to purchase and can assure Redrow that, for themselves and their dependents, it will be their sole residence. The discount must also remain with the property if it is re-sold in the future.
"The idea is to ensure that these homes remain affordable, so the Advantage discount is attached to each property 'in perpetuity'," Lesley explained. "If and when the owner sells up and moves on, they must pass on the same discount to a new buyer who similarly qualifies."
The Advantage apartments are currently being sold off-plan but visitors to The Brook at Taylor's Chase can view two fully furnished four-bedroom detached show homes, the Stratford and the Oxford, which promote the developer's range of three and four-bedroom homes, currently available from £254,995.
To find out more visit The Brook at Taylor's Chase usually open daily between 10am and 5.30pm, call 01925 541479, or go to www.redrow.co.uk/thebrook
---
Issued for & on behalf of Redrow Homes (Lancashire) by Active PR