PQA Earlsfield- Free Taster Sessions!
Burntwood School Burntwood Lane
SW17 0AQ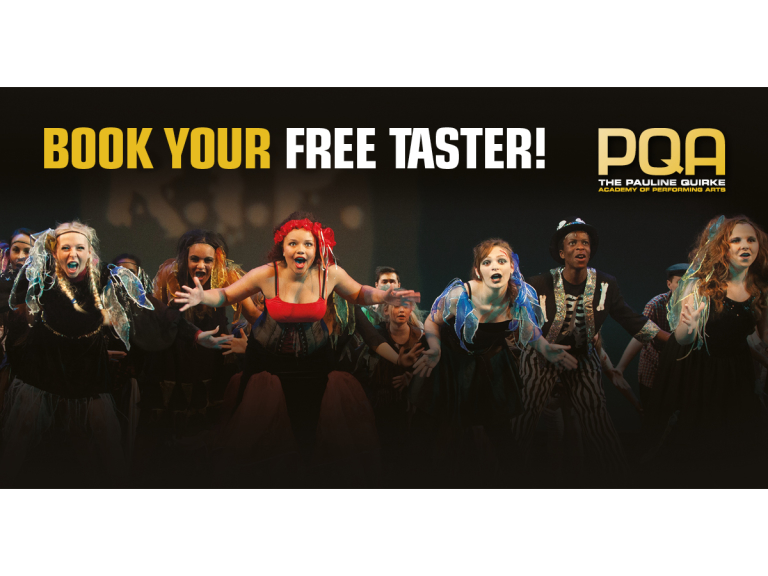 Performing Arts Training for Children and Young People aged 4-18!
PQA Earlsfield is a dedicated performing arts school with classes for children and young adults in Musical Theatre, Comedy & Drama and Film & Television. With industry professionals on hand to deliver the best quality training, our Earlsfield Academy operates from Burntwood School every Saturday from 9.45am-1pm. We welcome students aged 4-18 years from within the Wandsworth, Putney, Tooting Wimbledon, Battersea, Merton, Mitcham, Clapham, Fulham, Chelsea and Kensington areas (to name a few!) 
Here at PQA Earlsfield, we have been working on some AWESOME projects! With our Roald Dahl Showcase a sell-out success, 2019 is shaping up to be an exciting and challenging year! We will be towards our Junior Book Musical to be performed in November 2019- with the BIG REVEAL at Easter! In Comedy & Drama we will be developing our acting skills and exploring a range of methods and texts. In Musical Theatre; we will be working on developing our voice and movement skill and technique! In Film & Television, students will be exploring the filmmaking process, working together to create and shoot some exciting short films! Our Poppets will be exploring some amazing themed sessions, working towards their Poppets Easter Film where their movie-star magic will come to life!
In December 2019 we are SO EXCITED to be performing with G4 at their Cadogan Hall performance- what an incredible opportunity for our students! I'm sure you will agree that there is never a dull moment at our academy- why not come and experience the fun?

We offer an array of diverse and challenging modules designed to engage and excite our students. We are passionate about building confidence and developing children's skills in the performing arts, while striving to allow each individual to reach their potential! Our staff are fully trained and actively working in the industry. With their commitment and experience, we ensure that every student is given the opportunity to be themselves and be amazing!

We offer free no-obligation taster sessions for potential students wanting to trial the Academy - please email or call us to arrange your visit.

carly.bond@pqacademy.com
07421023706
Future dates
Saturday 30th March 9:45am until 1:00pm
Saturday 6th April 9:45am until 1:00pm
Saturday 27th April 9:45am until 1:00pm
Saturday 4th May 9:45am until 1:00pm
Saturday 11th May 9:45am until 1:00pm
Saturday 18th May 9:45am until 1:00pm
Saturday 25th May 9:45am until 1:00pm
Saturday 1st June 9:45am until 1:00pm
Saturday 8th June 9:45am until 1:00pm
Saturday 15th June 9:45am until 1:00pm
Saturday 22nd June 9:45am until 1:00pm
Saturday 29th June 9:45am until 1:00pm
Saturday 6th July 9:45am until 1:00pm
Saturday 13th July 9:45am until 1:00pm
Saturday 20th July 9:45am until 1:00pm
Saturday 27th July 9:45am until 1:00pm
Saturday 31st August 9:45am until 1:00pm
Saturday 7th September 9:45am until 1:00pm
Saturday 14th September 9:45am until 1:00pm
Saturday 21st September 9:45am until 1:00pm
Saturday 28th September 9:45am until 1:00pm
Saturday 5th October 9:45am until 1:00pm
Saturday 12th October 9:45am until 1:00pm
Saturday 19th October 9:45am until 1:00pm
Saturday 26th October 9:45am until 1:00pm
Saturday 2nd November 9:45am until 1:00pm
Saturday 9th November 9:45am until 1:00pm
Saturday 16th November 9:45am until 1:00pm
Saturday 23rd November 9:45am until 1:00pm
Saturday 30th November 9:45am until 1:00pm
Saturday 7th December 9:45am until 1:00pm
Saturday 14th December 9:45am until 1:00pm
Saturday 21st December 9:45am until 1:00pm
Saturday 28th December 9:45am until 1:00pm
Saturday 4th January 9:45am until 1:00pm
Saturday 11th January 9:45am until 1:00pm
Saturday 18th January 9:45am until 1:00pm