Friday Party with DJ RAYDEN at MJ's Bar and Venue
38 Bridge Street
Wednesbury
West Midlands
WS10 0AQ
Friday 18th October, 9:00pm - Until Saturday 19th October, 3:00am
See future dates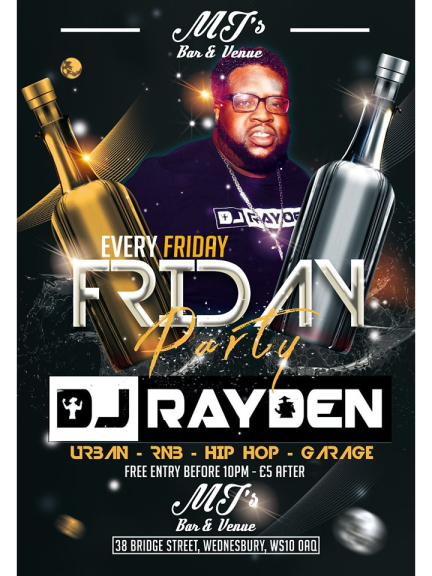 Love Urban, RnB, Hip-Hop and Garage music? Then this is the night for you! Come down to MJ's Bar and Venue in Wednesbury every Friday for this NEW event!
Free entry before 10pm - £5 after. 
Every Friday at MJ's Bar ans Venue, 38 Bridge Street, Wednesbury, WS10 0AQ. 
For more events at MJ's Bar and Venue click here. 
Future dates
Friday 25th October, 9:00pm - Until Saturday 26th October, 3:00am
Friday 1st November, 9:00pm - Until Saturday 2nd November, 3:00am
Friday 8th November, 9:00pm - Until Saturday 9th November, 3:00am
Friday 15th November, 9:00pm - Until Saturday 16th November, 3:00am
Friday 22nd November, 9:00pm - Until Saturday 23rd November, 3:00am
Friday 29th November, 9:00pm - Until Saturday 30th November, 3:00am
Friday 6th December, 9:00pm - Until Saturday 7th December, 3:00am
Friday 13th December, 9:00pm - Until Saturday 14th December, 3:00am
Friday 20th December, 9:00pm - Until Saturday 21st December, 3:00am
Friday 27th December, 9:00pm - Until Saturday 28th December, 3:00am
Friday 3rd January, 9:00pm - Until Saturday 4th January, 3:00am
Friday 10th January, 9:00pm - Until Saturday 11th January, 3:00am
Friday 17th January, 9:00pm - Until Saturday 18th January, 3:00am
Friday 24th January, 9:00pm - Until Saturday 25th January, 3:00am
Friday 31st January, 9:00pm - Until Saturday 1st February, 3:00am
Friday 7th February, 9:00pm - Until Saturday 8th February, 3:00am
Friday 14th February, 9:00pm - Until Saturday 15th February, 3:00am
Friday 21st February, 9:00pm - Until Saturday 22nd February, 3:00am
Friday 28th February, 9:00pm - Until Saturday 29th February, 3:00am
Friday 6th March, 9:00pm - Until Saturday 7th March, 3:00am
Friday 13th March, 9:00pm - Until Saturday 14th March, 3:00am
Friday 20th March, 9:00pm - Until Saturday 21st March, 3:00am
Friday 27th March, 9:00pm - Until Saturday 28th March, 3:00am
Friday 3rd April, 9:00pm - Until Saturday 4th April, 3:00am
Friday 10th April, 9:00pm - Until Saturday 11th April, 3:00am
Friday 17th April, 9:00pm - Until Saturday 18th April, 3:00am
Friday 24th April, 9:00pm - Until Saturday 25th April, 3:00am
Friday 1st May, 9:00pm - Until Saturday 2nd May, 3:00am
Friday 8th May, 9:00pm - Until Saturday 9th May, 3:00am
Friday 15th May, 9:00pm - Until Saturday 16th May, 3:00am
Friday 22nd May, 9:00pm - Until Saturday 23rd May, 3:00am
Friday 29th May, 9:00pm - Until Saturday 30th May, 3:00am
Friday 5th June, 9:00pm - Until Saturday 6th June, 3:00am
Friday 12th June, 9:00pm - Until Saturday 13th June, 3:00am
Friday 19th June, 9:00pm - Until Saturday 20th June, 3:00am
Friday 26th June, 9:00pm - Until Saturday 27th June, 3:00am
Friday 3rd July, 9:00pm - Until Saturday 4th July, 3:00am
Friday 10th July, 9:00pm - Until Saturday 11th July, 3:00am
Friday 17th July, 9:00pm - Until Saturday 18th July, 3:00am
Friday 24th July, 9:00pm - Until Saturday 25th July, 3:00am
Friday 31st July, 9:00pm - Until Saturday 1st August, 3:00am
Friday 7th August, 9:00pm - Until Saturday 8th August, 3:00am
Friday 14th August, 9:00pm - Until Saturday 15th August, 3:00am
Friday 21st August, 9:00pm - Until Saturday 22nd August, 3:00am
Friday 28th August, 9:00pm - Until Saturday 29th August, 3:00am
Friday 4th September, 9:00pm - Until Saturday 5th September, 3:00am
Friday 11th September, 9:00pm - Until Saturday 12th September, 3:00am
Friday 18th September, 9:00pm - Until Saturday 19th September, 3:00am
Friday 25th September, 9:00pm - Until Saturday 26th September, 3:00am
Friday 2nd October, 9:00pm - Until Saturday 3rd October, 3:00am
Friday 9th October, 9:00pm - Until Saturday 10th October, 3:00am
Friday 16th October, 9:00pm - Until Saturday 17th October, 3:00am
Friday 23rd October, 9:00pm - Until Saturday 24th October, 3:00am
Friday 30th October, 9:00pm - Until Saturday 31st October, 3:00am
Friday 6th November, 9:00pm - Until Saturday 7th November, 3:00am
Friday 13th November, 9:00pm - Until Saturday 14th November, 3:00am
Friday 20th November, 9:00pm - Until Saturday 21st November, 3:00am
Friday 27th November, 9:00pm - Until Saturday 28th November, 3:00am
Friday 4th December, 9:00pm - Until Saturday 5th December, 3:00am
Friday 11th December, 9:00pm - Until Saturday 12th December, 3:00am
Friday 18th December, 9:00pm - Until Saturday 19th December, 3:00am
Friday 25th December, 9:00pm - Until Saturday 26th December, 3:00am
Friday 1st January, 9:00pm - Until Saturday 2nd January, 3:00am
Friday 8th January, 9:00pm - Until Saturday 9th January, 3:00am
Friday 15th January, 9:00pm - Until Saturday 16th January, 3:00am
Friday 22nd January, 9:00pm - Until Saturday 23rd January, 3:00am
Friday 29th January, 9:00pm - Until Saturday 30th January, 3:00am
Friday 5th February, 9:00pm - Until Saturday 6th February, 3:00am
Friday 12th February, 9:00pm - Until Saturday 13th February, 3:00am
Friday 19th February, 9:00pm - Until Saturday 20th February, 3:00am
Friday 26th February, 9:00pm - Until Saturday 27th February, 3:00am
Friday 5th March, 9:00pm - Until Saturday 6th March, 3:00am
Friday 12th March, 9:00pm - Until Saturday 13th March, 3:00am
Friday 19th March, 9:00pm - Until Saturday 20th March, 3:00am
Friday 26th March, 9:00pm - Until Saturday 27th March, 3:00am
Friday 2nd April, 9:00pm - Until Saturday 3rd April, 3:00am
Friday 9th April, 9:00pm - Until Saturday 10th April, 3:00am
Friday 16th April, 9:00pm - Until Saturday 17th April, 3:00am
Friday 23rd April, 9:00pm - Until Saturday 24th April, 3:00am
Friday 30th April, 9:00pm - Until Saturday 1st May, 3:00am
Friday 7th May, 9:00pm - Until Saturday 8th May, 3:00am
Friday 14th May, 9:00pm - Until Saturday 15th May, 3:00am
Friday 21st May, 9:00pm - Until Saturday 22nd May, 3:00am
Friday 28th May, 9:00pm - Until Saturday 29th May, 3:00am
Friday 4th June, 9:00pm - Until Saturday 5th June, 3:00am
Friday 11th June, 9:00pm - Until Saturday 12th June, 3:00am
Friday 18th June, 9:00pm - Until Saturday 19th June, 3:00am
Friday 25th June, 9:00pm - Until Saturday 26th June, 3:00am
Friday 2nd July, 9:00pm - Until Saturday 3rd July, 3:00am
Friday 9th July, 9:00pm - Until Saturday 10th July, 3:00am
Friday 16th July, 9:00pm - Until Saturday 17th July, 3:00am
Friday 23rd July, 9:00pm - Until Saturday 24th July, 3:00am
Friday 30th July, 9:00pm - Until Saturday 31st July, 3:00am
Friday 6th August, 9:00pm - Until Saturday 7th August, 3:00am
Friday 13th August, 9:00pm - Until Saturday 14th August, 3:00am
Friday 20th August, 9:00pm - Until Saturday 21st August, 3:00am
Friday 27th August, 9:00pm - Until Saturday 28th August, 3:00am
Friday 3rd September, 9:00pm - Until Saturday 4th September, 3:00am
Friday 10th September, 9:00pm - Until Saturday 11th September, 3:00am