YMCA - 25 IN 25 Campaign
30th August 2017
... Comments
---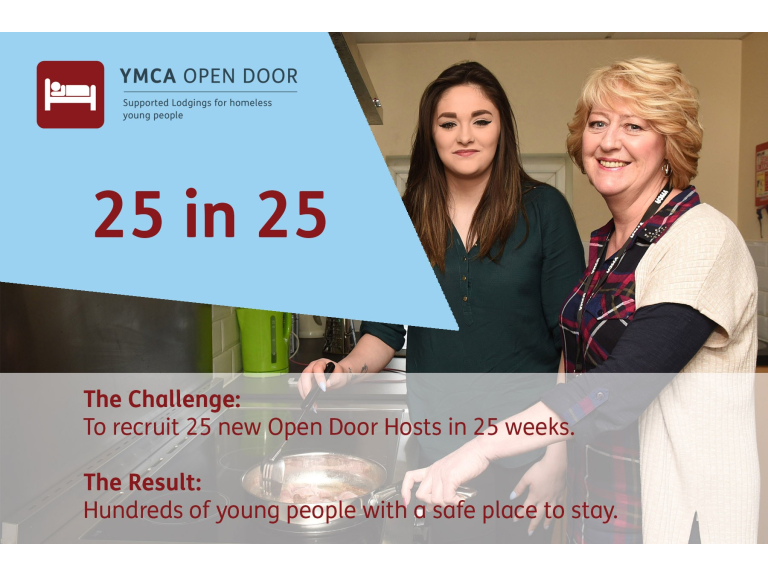 The Open Door Team at the YMCA (Part of the Black Country group) has launched a 25 in 25 Campaign. They've set themselves an Open door Challenge to recruit 25 new Hosts in 25 weeks in the run up to Christmas. The project has been running since 2009 and in that time our Hosts have helped hundreds of young people.
The challenge was launched in June. The launch and campaign were endorsed by the Mayor of Dudley – Dave Tyler and The Mayor of Walsall – Marco Longhi.
"I'm very impressed with this project. It provides practical and emotional support and demonstrates a working commitment to young homeless people here in Walsall and across the Black Country. I really feel there should be no place for homelessness in the 21st Century - but sadly it is still amongst us…"
 – Marco Longhi (The Mayor of Walsall)
"…It is such an important cause helping to provide a basic human need for the people who need it most. Through the 25 in 25 campaign I'm sure other people will see how important it is to have a roof over your head and help support vulnerable young people."
– Dave Tyler (The Mayor of Dudley)
All you need to be an Open Door Host is a spare room and a big heart. Our Hosts are ordinary people who do an extraordinary thing, and this makes an extraordinary difference where it is most needed.  We are desperate for new Hosts across the Black Country. All our Hosts are absolutely amazing but we need you? We're trying to recruit 25 new Hosts in 25 weeks.
Do you live in Dudley, Walsall, or of the surrounding areas within the Black Country? Do you have a spare room and would you like to make a difference in your local community?Could you open your heart and home to a vulnerable young homeless person? Could you give a young person a safe place and a helping hand into adulthood? Be part of our #25in25 Host challenge.
For more information about YMCA Open Door, how to become a Host or our upcoming Host events as part of the 25 in 25 Challenge: