Walsall poets visit Staffordshire roots.
8th July 2020
... Comments
---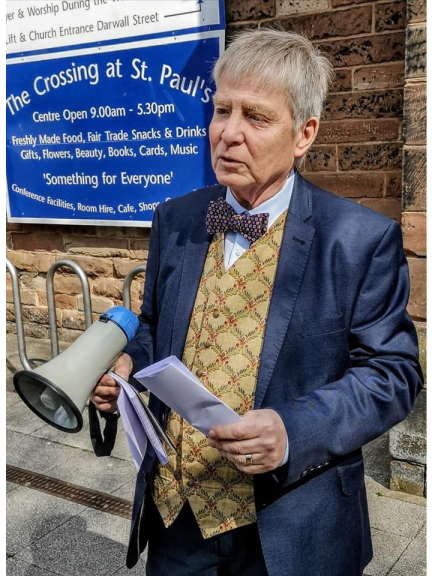 The Space Station in Stafford is an established Arts-based project seeking to promote all forms of self-expression through Art and the spoken word.
Building on the success of its Poetree Project the station is releasing a Summer collection of poetry penned by a wide selection of local poets including a number of Walsall writers who have stepped across the boundary to contribute.
Andy Summers, a retired teacher, father of three, is amongst the Walsall visitors excited to have one of his poems published in the collection and he is looking forward to performing 'Single flower: on the swing' at the Poems around the Poetree Summer Selection launch online on Friday 10th July.
He has been scribbling poetry since his childhood days growing up in Handsworth and Walsall but unlike some of the other poets in this collection, he has published very little of his work.
Andy's first published piece,'The Responsible Bomb',  a strong response to the bombing of Syria in 2015, was picked up and printed by the Morning Star and appeared in the Unofficial War Artist exhibition at the Imperial War Museum in London alongside the artwork of Peter Kennard and Andy performed the poem later at the Tolpuddle Martyrs Festival in Dorset.
Andy's mixture of strong dissenting poetry, narrative commentaries and occasional gentle observations of human engagement with nature in a variety of landscapes reflect his Walsall background and he has found inspiration in the town's beautiful Arboretum, the Caldmore Garden project and Walsall's close relationships with Staffordshire. He also revisits his experiences as a young man teaching on an isolated Pacific island in the Fiji group, as a behaviour specialist working with challenging young people across the Midlands and more recently as a foodbank volunteer and a spoken word performer in a Care Home in Staffordshire.
He has recently begun presenting his work at a variety of venues including The Pretty Bricks and Walsall Library in his home town where he has also contributed strong words at important political gatherings. He performs in Lichfield, and most notably with Word in Stafford where he is a Slam finalist as well as with Scriptstuff in Leamington which recently published one of his poems in its Lockdown Anthology.   'Basket Case – a lockdown prescription' was inspired by our current lockdown existence in praise of the unsung work of local pharmacists.  He has also made occasional appearances as far afield as Lyme Regis and Bridport and hopes to join creative writers in his favourite Dorset holiday destinations should we actually manage to get past Covid 19.
Andy hopes that many people catch the varied contributions from Walsall and Staffordshire in the Poems round the Poetree  Summer Selection next Friday at 7.30 – check the Poems around the Poetree Facebook pages for details.