Update from Willenhall History Society
11th January 2021
... Comments
---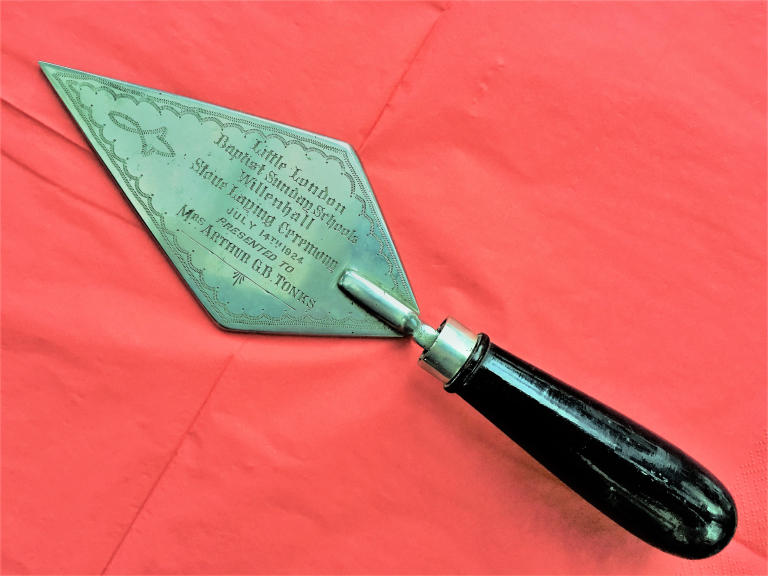 I hope you found my last article on the Willenhall Home Guard of interest.
When researching this story I learned that Herbert Smith was a keen photographer and had some cine film of his men which he took during the 1940's. This was on a special 9.5mm film so remained unseen until the late 1990's when it was transferred to video tape by a chap named Cyril Boyes who had an insurance business in Short Heath. Cyril will no longer be with us but I believe he had family in the area so if anyone out there can put us in touch with them we might be able to get a look at the tape.
During last summer I was contacted by Annie Moony of Paignton who offered our society the original ornately engraved trowel used at the stone laying ceremony of the Little London Baptist Church Sunday School extension in 1924. It is engraved 'Little London Baptist Sunday School Stone Laying Ceremony July 14th,1924. Presented to Mrs.Arthur G.B.Tonks.'  The Tonks's where church members and the stone tablet being laid was a mark of appreciation to the previous pastor Arthur Scudamore whose energies bought about the project, the cost of the tablet being borne by Mr.Charles A. Tonks.
It seems the trowel came into Annie's ownership a long time ago when she acquired a very ornate desk that once belonged to the Tonks's. Nice of her to give the society such an interesting artifact.  Little London Baptist Church is a grade 2 listed building and although its condition declined near to the point of demolision in the early 1990's, its closure after 202 years was not the end. Another interested religious group called the 'Mount Olive Apolistic Church' took it over, completed remedial structural work and it is again functioning as a place of worship.
Only this week a  further gift came in the form of a Rushbrooke Farthing from a lady in Leicestershire who was having a clean-out. She had no connection with Willenhall but looked us up and sent it to us rather than bin it. Good thinking.
So, if you have anything  of interest relating to Willenhall that you do not need, particularly photo's that we could securely borrow to copy please get in touch either e mail willenhallhistory@gmail.com or simply ring me on 01902 843006. Bye for now, avoid infection. Bob.